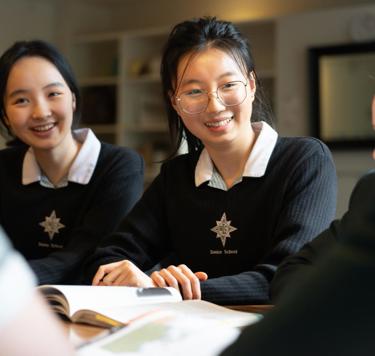 Our international student program
We enjoy a reputation for being one of Australia's most innovative and successful girls' school for international students. Located in the multi-cultural city of Melbourne, our international students find MLC to be an enriching and supportive place to learn and often comment on their strong sense of belonging.
We welcome the global perspectives that international students bring to high school life. We limit the number of international student positions available, so we ensure our international students have the best possible experience and high levels of support.
Our four dedicated secondary school communities (Junior School, Junior Secondary School, Middle School, and Senior School) are like no others in Melbourne, and the extensive opportunities available throughout the College draw international students to Australia from all over the globe.
Students are able to live on campus in our renowned Boarding House (Years 7-12 only), or with a parent or approved relative on a guardian visa.

Entry is via agents overseas or directly to MLC (completing the Application for Enrolment). Students will need to undertake an English proficiency test.
English as an Additional Language (EAL)
All students who do not have English as their first language are required to sit an English Language Assessment Test provided by the Australian Education Assessment Services (AEAS) or i.DAT. The enrolment can only be processed after the test results have been forwarded to MLC.
MLC has minimum requirements for EAL for school students to proceed with enrolment:
| | |
| --- | --- |
| Year Levels | Minimum Score Achievement |
| Years 4-6 | 46+ |
| Years 7-9 | 71+ |
| Years 10-12 | 80+ |
Welfare and accommodation
All overseas students planning to study at MLC must indicate their accommodation arrangements at the time of application.
The College requires that all students either:
Live in Australia with a parent, a Department of Home Affairs (DHA) approved relative or a legal custodian;
Live in the Tiddeman Boarding House (Year 7-12); or
When MLC accepts an overseas student enrolment in the Boarding House, the College is responsible for providing accommodation, support and general welfare of the student and issues a Confirmation of Appropriate Accommodation and Welfare (CAAW) letter as part of the visa process.
These arrangements are required to be in place for the period that the individual is enrolled as a student at MLC.
MLC is not permitted to delegate, outsource or contract out this responsibility.
Tiddeman Boarding House
Our Tiddeman Boarding House offers a comfortable home away from home where students (Years 7 to 12) make lasting friendships. The Head of Boarding and boarding staff are dedicated to ensuring that boarding students are well supported and guided in making the most of what MLC has to offer.
During term breaks, overseas students (for whom the College has issued a CAAW) residing in the Boarding House must:
Return home to parents, or
Move to a 'short term' Homestay arrangement approved by the College (Note: students under 15 years of age are not permitted to stay in short-term homestay).
More information on Boarding at MLC
Supporting our overseas students
The International Student Team at MLC comprehensively supports our international students' social, academic and administrative needs.
All international students have access to a range of support facilities, including:
MLC's International Student Coordinator monitors all aspects of student welfare, including academic progress, and provides opportunities for international students to become active members of the College community.
MLC's International Student Coordinator supports students in short-term Homestay arrangements.
MLC Admissions, who help with visa, passport and health insurance matters.
MLC Careers Counsellors, who work closely with international students and their teachers in subject choice, career advice and university entrance.
The Melbourne Schools Partnership International (MSPI), which is a unique alliance between the University of Melbourne and selected schools, including MLC. Each year, the Program assists MLC in supporting our high-calibre international students.
Local Support Person
The College requires that each overseas student issued with a CAAW letter have a Local Support Person while the student is studying in Melbourne to provide personal and practical support, in addition, to support provided by the College as the official guardian.
The Local Support Person may be recommended by the parents and is preferably known to them. An MLC Local Support Person needs to meet the following criteria:
Must be over 21 years of age
Must be comfortable conversing in English
Must be an Australian citizen or permanent resident living in Metropolitan Melbourne
Must be contactable by both email and phone 7 days/week
Must be committed to providing ongoing and regular support to the student
Must nominate a replacement person if they are going to be away for an extended period of time
Must be prepared to obtain a Working with Children Check (WWCC), provide proof of identity and suitable references and complete MLC's Child Safe Induction.
The College endorses all Local Support Persons before a formal appointment is made to ensure the person's suitability for the role.
Student Visa and Overseas Health Cover
After acceptance of a place, MLC will issue the documentation required for students to obtain a student visa and organise overseas student health cover if necessary. This visa will be issued for the length of the course of schooling.