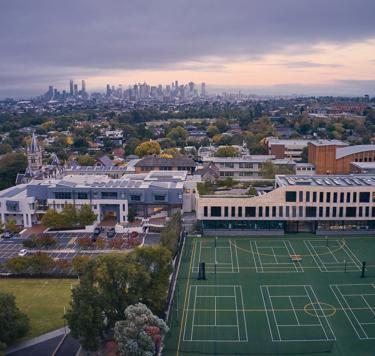 Parking, transport, and school bus options
MLC's central location, close proximity to public transport links, and dedicated school bus services enable students from all over metropolitan Melbourne and Victoria to attend our College.
Drop off and pick up zones
Designated drop-off zones are in various locations around the campus. These are located in Fitzwilliam Street, MLC Kindle (enter from Lofts Avenue) and the MLC Chapel Car Park / Junior School Bus Shelter Zone (enter from Barkers Road).
Map of all transport options
There are many ways for students to travel to and from MLC, including bus, train, tram and private bus services. Click the image to view the MLC transport map below: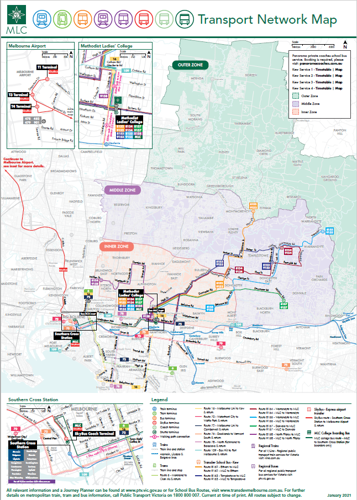 Panorama school bus services
Panorama Coaches provides secure and reliable bus services specifically for Kew-based independent schools, enabling students who reside outside the City of Boroondara to easily and quickly get to and from school.
There are four routes:
Eltham-Templestowe-Balwyn,
Lower Plenty-Rosanna-Eaglemont-Ivanhoe East,
Bundoora-Watsonia-Heidelberg-Alphington and
Reservoir-Preston-Thornbury-Northcote-Brunswick-Fitzroy North-Clifton Hill
These are safe and convenient student-only services and are suitable for flexible bookings.
These route areas are indicated by the shaded areas on the map above, however, specific routes are subject to change dependent on bookings.
For more information on these routes, please visit the Panorama website.
Public transport access
MLC is easily accessible by public transport. The route 16 tram stops directly outside of MLC on Glenferrie Road and connects to many other tram routes, including routes 70, 72, 75 and 109. Glenferrie Railway Station is an easy 10-minute walk away, and is serviced by the Belgrave, Lilydale, and Alamein lines, which includes quick direct access to the Melbourne CBD and the entire network of rail services offered by Metro Trains.
To plan your journey to MLC by public transport, visit https://www.ptv.vic.gov.au/journey
Public Transport Victoria (PTV) school buses
Kinetic Melbourne is one of the largest private bus companies in Australia and holds the government contract to provide bus transport at no cost to students attending schools in the local Kew area. The majority of drop-off and pick-up points are in the immediate vicinity of MLC. 
Visitors to the College
A limited amount of car parking is available on campus. It is recommended that visitors park on Barkers Road or neighbouring streets, adhering to the parking restrictions and clearway times set by Boroondara Council.
All visitors and contractors on arrival must attend Hamley Reception to complete a registration procedure that will provide an MLC name label to wear on an outer garment for the duration of their visit. Please note that this does not include guests visiting The Terrace Restaurant.

Hamley Reception is open from 8 am until 5 pm during school term and 9 am until 5 pm during school holidays. If you are visiting the College outside of these hours, you must have made prior arrangements with the staff member you are meeting.