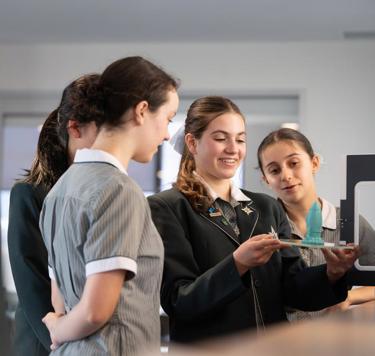 Junior Secondary School
Year 7 and 8
A great start to secondary education
In Years 7 and 8, students become part of our welcoming and vibrant secondary school and the smaller Junior School learning community. Our students benefit from a support network that enables them to transition into secondary school life successfully and with confidence.
Within our Junior Secondary School, we focus on building robust academic foundations and preparing students for the years ahead. Whether coming from our Junior School or joining the College for the first time, they are supported through this time of new discoveries, new subjects, new teachers and new friends.
Junior Secondary School's purpose-built Nicholas Learning Centre, which opened in 2019, was designed with community and collaborative learning in mind. The Learning Centre features interconnected indoor and outdoor learning and recreational areas that unlock the potential for learning through imaginative and unlimited space for learning activities.
Technology has long been a central part of learning at MLC. All Junior Secondary School students are provided with a notebook computer as a key tool, in step with the developments of the world beyond the classroom. Students develop digital literacy and online safety skills and use cloud-based tools for immersive 21st-century learning.
Learning pathways
Junior Secondary School (Year 7-8) is where students experience individual subjects taught by specialist teachers for the first time.
Easy transition from primary school to this next level of learning is central; subjects are learned in the familiar environment of students' homegroups, with subjects such as Visual Art, Science and Music taught in specialist classrooms.
The broad core curriculum allows students to identify their strengths and interests while experiencing a full range of subjects. Together, students and their teachers develop a safe and nurturing environment that promotes personal growth and positive self-esteem. There are units in STEAM (Science, Technology, Engineering, Art and Design, Mathematics) and the opportunity to study two second languages or undertake the French Immersion program.
The French Partial Immersion program is a three-year learning experience. Commencing in Year 7, students undertake course work for Mathematics, History, Geography, Music and Science entirely in French, alongside French language classes. This experience continues in Year 9 with Media Studies and preparation for the DELF B1 exam. 
After completing the program, students are equipped to advance to VCE French in Year 10, one year ahead of their peers. Prior French learning experience is favourable but not mandatory for the program. Students must apply to study this program. 
Learning also moves beyond the classroom in both Year 7 and Year 8. Students attend MLC Banksia with their home groups and cement their connections with their peers while embarking on our Education Outdoors program that introduces students to environmental projects, navigation and camping skills.
Core Subjects
Digital Technology
Drama
English
Geography
History
Languages
Mathematics
Music
Physical Education
Product Design Technology: Wood
Religion and Society
Science
Visual Art
| | |
| --- | --- |
| Core Subjects | Elective Subjects |
| Drama | Contemporary Singing |
| English | Digital Design |
| Geography | Drama Workshop |
| History | Drawing |
| Home Economics | First Aid |
| Languages | Food Glorious Food |
| Mathematics | Jewellery  |
| Music | Product Design: Wood |
| Physical Education | Textiles |
| Religion and Society |   |
| Science |   |
| Visual Art |   |
Wellbeing in Junior Secondary School
Supporting transition is crucial to wellbeing in these first years of secondary schooling. We focus on fostering independence and resilience in our Year 7 and 8 students, as well as a positive classroom culture.
Our recently built Year 7 to 8 Learning Centre (Nicholas Learning Center) has been designed with wellbeing at its core. Teachers and coordinators are located amongst the cohort, making them visible and available to students. The classrooms and open spaces have been specifically designed to meet their pastoral needs.
Activities include:
Year 7s are supported through our transition program as they enter secondary school for the first time. At the beginning of the year, year 7 participate in the "setting up for Success week". This is a program specifically designed to help students navigate their way around the College and ensure they make connections with staff and other students.   
Big Sister program with Year 11 students.
The Resilience, Rights and Respectful Relationships program forms the foundation of the Year 7 and 8 wellbeing program and includes Mindfulness and Mental Fitness topics.
We also partner with well-known organisations such as the Butterfly Foundation, Headspace and Resilient Youth Australia to focus on specialist areas of wellbeing.