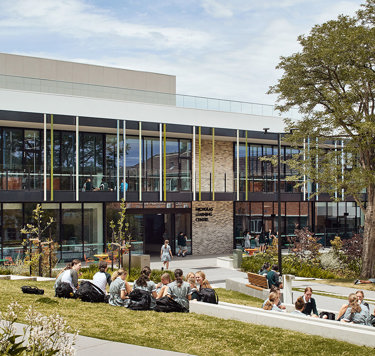 Purpose-built learning environments
Located just seven kilometres from Melbourne, set among the safe and tree-lined streets of Kew, MLC's renowned school campus offers empowering learning spaces to girls from Years Prep to 12. 
With a combination of heritage-listed and contemporary buildings, along with secure gardens and recreational spaces, our Kew campus is an inspiring place for students to socialise, make discoveries, and engage deeply with their learning.
Our extensive campus is home to our Boarding House and our four dedicated learning communities – Junior School, Junior Secondary School, Middle School, and Senior School, each with their own purpose-built and age-appropriate facilities, flexible learning spaces, and a number of world-class shared facilities, such as our multi-sports Physical Education Centre and our purpose-built Music School.
In addition, MLC has two Education Outdoor campuses in regional Victoria.
Campus life
Whether students are working in our science laboratories or theatre, playing on our sports fields, diving into our swimming pool, or making use of one of our many music studios, art rooms, or dedicated libraries for both Junior and Secondary years, they make the most of the integrated technologies, professional equipment, and resources spread across our breath-taking campus.
Across Years 5 to 9, students also have the opportunity to experience the magic of our two MLC owned and dedicated remote campuses, MLC Banksia and MLC Marshmead, where we host our acclaimed Education Outdoors program.
| | |
| --- | --- |
| Our facilities include: |   |
| Art House and Specialist Studios, including Ceramic Studio and Kiln | |
| Performance spaces (James Tatoulis Auditorium, Assembly Hall, and Flockart Hall | |
| | Sports Oval (Multi Sport) |
| | |
| Libraries (Secondary School and Junior School | |
| | Swimming Lap and Diving Pool |
| Television Studio and Editing Suite | Gymnasium (competition standard) |
| | |
| | |
| Home Economics Demonstration Kitchens and Commercial Training Restaurant | Two age-appropriate Junior School Playgrounds |
| Music and Sound Production Studios | |
| Principal's Terrace Garden | Gallery Space (Common Ground) |
|   |   |
College planning and development
We monitor and ensure that our facilities progress with both our changing student needs and our innovative curriculum.
We aim to provide state of the art 21st Century learning spaces that enhance student transitions, promote shared learning experiences and build cohesive year-level communities.
Some of our recent developments include:
Year 7-8 Nicholas Learning Centre is one single 'home' for Junior Secondary School students and staff, enhancing the transition into secondary school and connecting the JSS learning community. We were delighted to open the Nicholas Learning Centre (NLC) in mid-2019 which contains 24 configurable learning spaces and indoor and outdoor learning spaces, including a rooftop garden
Principal's Terrace Garden. The Terrace is aptly named as the garden borders the offices of the Principal, Senior Vice Principal and Vice Principal and is located in the heart of the campus. This is an open space suitable for recreational use during lunchtimes and recess by all secondary students, as well as the ability for classes to utilise the space for learning. With extensive lawn space and bench seating, there is also an amphitheatre and disability access.
Sports Oval. The development of the new Learning Centre also provided an opportunity to resurface the oval outside the Physical Education Centre for the benefit of all students from Junior School through to Senior School. The Oval has markings for many sports, including athletics, hockey, netball, and tennis, as a multi-purpose sporting ground.
Dr Wood Learning Centre is the home of Year 9 students. Opened in 2020, the building includes flexible, collaborative learning spaces, as well as spaces for presentations, small group work and informal learning. The adjacent amphitheatre space seamlessly connects with the learning spaces within Wood. This provides outdoor learning spaces, recreational spaces, and productive garden spaces. It enhances the learning links between the Kew and Marshmead campuses, even sharing similar totems.
There has been additional landscaping on the western side of the Wood Learning Centre adjacent to the Star Plaza. This has also provided more space for recreational outdoor seating and improved pedestrian pathways.
Refurbishment of the Year 10 hub (Nevile Wing), providing contemporary learning spaces, which will be completed in Dec 2022.
Getting to MLC
Information on public transport access, school bus services, and visiting the College.