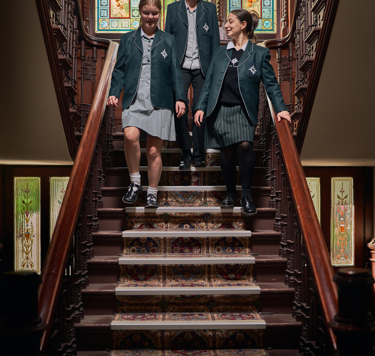 Frequently Asked Questions
Frequently Asked Questions
Boarders in Years 7 – 11 share a room with 1 or 2 other girls in the same year level and change rooms at the end of each term. Staff will consult with students towards the end of each term and provide students with the opportunity to submit preferences regarding whom they would like to share a room with. Staff will then consider these preferences and individual study and sleeping habits when allocating rooms for the following term. Year 12 students have their own rooms, which they stay in for the entire academic year.
The boarding program runs several weekend activities for students; however, students are free to plan their own time, with many boarders arranging social outings in neighbouring suburbs. Whether catching a movie, shopping or socialising with friends, boarders have the flexibility to be independent and plan their own schedule. With permission from their parents/guardians and at the discretion of Boarding House staff, students can leave the Boarding House during set times. All students are required to sign out at the Staff Office.
If your daughter is unwell during the day, she will report to the College nurses in the Health Centre. We also have a Boarding House nurse available every evening between Mondays - Thursdays, and our experienced Boarding House staff.

Due to our location on Glenferrie Road in Hawthorn, we have a range of health services on our doorstep. This includes a local GP practice who provides a locum service, dentists, orthodontists, physiotherapists and pharmacies.
Many of our students partake in local sporting clubs and external classes across Melbourne. Boarders also have access to lessons, tutoring and activities on campus, which includes our renowned Music School and Physical Education Centre, which are all open after school and on weekends so the opportunity of furthering your daughter's passions is never far away. The MLC campus is home to MLC Gymnastics, one of Victoria's largest and most successful gymnastics clubs, as well as MLC Aquatic, which in 2022 was awarded as a Top 3 Victorian swimming club and the MLC Stars Netball Club who are part of the in the Boroondara Netball Association.
Our onsite catering company is very experienced in organising alternative items to cater for special dietary requirements such as low FODMAP, Celiac or a specific food allergy. We focus on providing a healthy balanced diet and ensuring there is range and choice for students. If a student is absent for dinner due to sporting or co-curricular commitments, a saved dinner can be easily arranged and put to one side for her return.