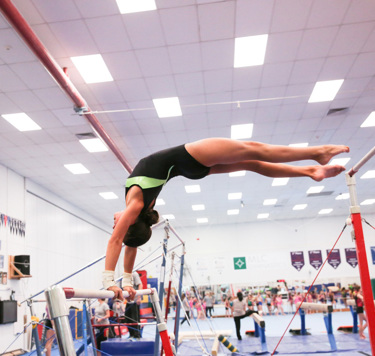 Safe and supportive gymnastics coaching
Designed to cater for a wide range of abilities, our Gymnastics program is coached by a highly qualified group of Gymnastics Australia accredited coaches, many of whom have years of experience in coaching and competing. We offer classes for all levels from Kindergym through to international WAG level.
Our Gymnastics for All (GFA) program aims to ensure that each gymnast's potential is reached through a fun and challenging program. It is designed to cater for a wide range of abilities so that everyone can reach new goals. Gymnasts use all the gymnastics apparatuses; Vault, Bars, Beam, Floor, P-Bars, Rings and of course, trampolines and foam pits! Each Apparatus has a detailed developmental curriculum to guide all participants of our GFA program through to success in their gymnastics.

Student development is tracked using our Progress reports once a term. These are assessed by the athlete's coach and taken home to parents to keep them informed and up to date with their progress.

In Term 4, all GFA athletes are given the opportunity to be involved in our annual Club Championships, a chance to show off their skills in a fun atmosphere for families to view.

Our program is structured by age group to ensure gymnasts are learning and challenged alongside their peers. The GFA program runs 10 levels, catering for ages 4 to 17. This structure is broken into Foundation levels, Intermediate Levels and Senior Levels.  
Foundation

Intermediate

Senior


Level 1 GFA – 1hr (ages 6 to 7)
Level 2 GFA – 1hr (ages 8 to 9)


Level 3 GFA – 1hr (ages 10 to 11)
Level 4 GFA – 1.5hrs (ages 11 to 12)

Level 5-10 GFA – 2hrs (ages 13 to 17)
If at any point the coaching staff believe that a gymnast has the potential to move into our Competitive Program, they will be recommended to Head Coach
Since 2001, MLC has been a registered and approved Kindergym Club within Australia. MLC has a group of highly qualified Kindergym instructors who lead the program with classes available for girls and boys aged 2 ½ to 5 years.

Classes assist the development of the whole child by providing a structured, multi-sensory environment where the child may creatively explore and practice skills safely while developing strength, coordination and self-confidence.

Kindergym classes are offered to the MLC Kindle students once a week, and external classes are available to the public on Wednesday and Thursday during the school term.
MLC Gymnastics is excited to offer a School Holiday Program during the April, July and September school holidays.  The program incorporates activities from our gymnastics, cheer and dance programs as well as yoga and craft activities. Participants can enroll in the full or half day program.
The MLC Gymnastics Holiday Program is for school-aged children, and participants do not need to be enrolled in term-time MLC Gymnastics programs to attend - meaning everyone can join in the fun!
If you are interested, please fill in the enquiry form below.
Competitive
Competitive gymnasts train up to 26 hours per week. Our competitive program is selected based on physical abilities and the desire to train and is divided into two offerings: Gym Star and Women's Artistic Gym (WAG).
The Gymstar program follows incremental levels from 1-10. MLC provides the opportunity for gymnasts to compete in competitions from levels 4-10.
All gymnasts are assessed and selected to enter the Gymstar program based on physical ability and desire to train.
Athletes in the Gymstar program train 2-3 days per week for between 5-8 hours total per week.
The Gymstar program allows gymnasts to develop at a rate relative to their ability and needs, while extending their skills in their competition routines.
Gymnasts in the WAG program train from 2-6 days per week, up to 26 hours total per week. The WAG program at MLC comprises of approximately 120 gymnasts, made up of MLC and non-MLC athletes.
Each squad is generally comprised of 6-10 gymnastics and are coached by an experienced and qualified staff member who aims to provide a challenging and nurturing training environment.
Gymnasts in the WAG program progress through a systematic developmental pathway that focuses on the advancement of foundation skills, strength and flexibility.
Pre-Starlets and Starlets- Development Program
The gymnastics in the pre-starlets and starlets levels train to build a solid base from which gymnasts can build on in the future. Athletes at this level do not compete.
Star Flyers- Level 3-7
The star flyers program provides the first opportunity for MLC WAG gymnasts to compete at local and state level competitions. These levels follow the flexible Gymnastics Australia levels program that encourages safe developmental progressions. Levels 3-6 comprise of compulsory skills and routines, with level 7 gymnasts having the opportunity to complete their own routines.
Gymnasts in this program train up to 22 hours per week.
Shooting Stars- Level 8 to Senior International
The shooting stars program is designed for talented gymnasts who can progress through levels 8-10 and compete at local, state and national level competitions. MLC is one of the leading clubs in Australia and has produced many Victorian Team members from our shooting stars program who have progressed to Australian representatives at level 10.
For a select number of highly talented athletes, MLC offers an accelerated program for gymnasts who have the potential to compete at an International level and are aiming for selection onto a National squad.
Gymnasts in level 8 and above train up to 26 hours per week.