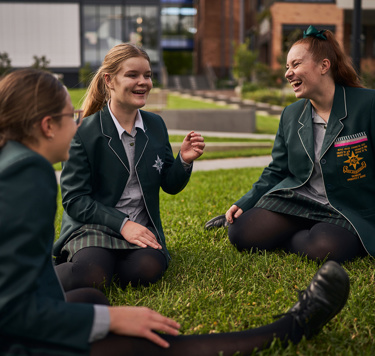 Student-led clubs and action groups
Almost every MLC student participates in our exciting array of student-led clubs and student action groups. Catering to every interest and passion among our student body, student clubs play an invaluable role in building a strong sense of belonging and community.
Our clubs are a place for our students to make friends and extend their learning beyond the classroom.

Clubs can be an extension of the curriculum, such as our Politics Club or Pen Club, or they can be action groups based on a common passion, such as The Green Team (sustainability), Connecting to Country (Indigenous culture and knowledge), or hobbies and skills such as the Chess Club, Coding Club, Craft Club, or the Animanga Society.

Additionally, some groups specifically target student wellbeing issues, such as the Rainbow Alliance (LGBTQ+) and the Student Wellbeing Action Group.

At the beginning of each year, students have a chance to find out about and sign up for clubs and action groups at our annual Senior Student-led Club Carnival. Furthermore, students are encouraged to form new clubs and committees relating to their own interests, with the enthusiastic support of the College and our staff.