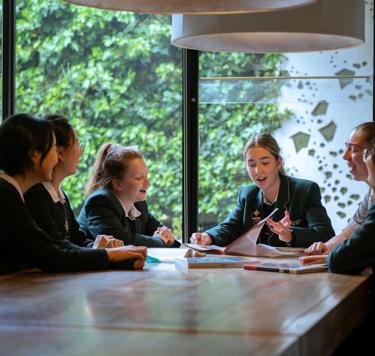 Senior School
Year 11 and 12
Where no dream is too big
In MLC's Senior School, academic choice expands to over 60 subjects offered across VCE, VCE VET and IB – the highest number of subject options available of any girls' school in Victoria.
Skills gained in earlier years are developed and fine-tuned through the widest possible range of learning experiences and study pathways, and students are encouraged and supported along the way by their tutor and team of specialist teachers.
Students create a timetable that matches their interests, needs and career goals by mixing and matching different subjects from the VCE, including VCE VET, or can select the International Baccalaureate (IB) diploma. MLC students have a history of achieving outstanding academic results across both pathways, consistently achieving the highest ATAR scores in the state.
"Senior School encourages and equips every student to become a citizen that the world needs. Our students leave us having been provided with the opportunities to develop purpose and agency – an awareness of their role in the world and their capacity to act and to influence, and to bring about change for the better, in their own lives and others."
- Jennifer Bailey Smith, Head of Senior School
We surround our senior students with a supportive team of enthusiastic teachers who are there to listen, advise and inspire, while also encouraging them to take responsibility for their learning. Multiple support systems help our students, including careers advice, counselling, and learning support. Homegroup tutors Tutors conduct multiple one-on-one coaching sessions with each of their students to ensure ongoing support, personal growth, and goal attainment through their Senior School journey.
Wellbeing is paramount during Senior School, and students are strongly encouraged to participate in the extensive co-curricular activities available throughout the College, such as a team sport or student club, to support their emotional and physical wellbeing. There are also many leadership opportunities on offer and opportunities to enjoy a balanced, holistic education, that sees them develop their own unique strengths and abilities and confidence in their future goals.
Learning pathways
Senior School offers two academic pathways, with flexibility within these pathways. We are committed to supporting each student and providing every opportunity to achieve their personal best when they graduate from the College. Our rigorous and challenging programs, supportive culture, and exceptional learning environment mean our students consistently achieve outstanding results in Year 12.
Wellbeing in Senior School
In Senior School, students' mature in their awareness of their role in the world and their capacity to act, influence, and bring about change for the better.
Term 1 begins with a focus on Engagement and Relationships; Term 2 focuses on Resilience and Strengths; Term 3 is about Positivity and Purpose, and Term 4 is about Strengths and Purpose. These are tied together across the academic year with discussion and focus on positive reflection, individual agency, responsibility and growth.
Senior School's tutor coaching model means each student participates in one-on-one coaching conversations with their Tutor. This ensures that students are well known by their Tutor, who focuses on their strengths and monitors their learning, goals and progress. This is in addition to the whole Tutor Group sessions.
Activities include:
Guest speakers at year-level assemblies and whole Senior School Assemblies
Opportunities to develop skills and knowledge in a range of areas, including time management, study skills, mindfulness, safe socialising, harm minimisation and sexual health.
One-on-one interviews with our Careers practitioners
Tertiary workshops with recent alumnae, including our Careers Showcase event