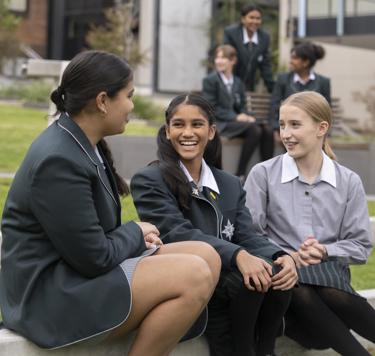 Investing in the future of girls' education
The MLC Foundation was established in 1998 to encourage and recognise financial support for the College and our students by our wider community, including our alumnae and current and past parents, staff, grandparents and friends.
The Foundation provides opportunities for the community to support the College by making tax-deductible donations to the Foundation's Scholarship Fund, Building Fund or Library Fund to benefit our students.
Claire Rogers, past parent and member of the MLC Board, chairs the MLC Foundation, a Standing Committee of the College Board, with members including current parents and alumnae.
With our students at the centre of all our efforts, the Foundation Committee oversees the development of strategic philanthropic programs for MLC, including the Annual Giving Day, Scholarships and other major gifts and bequests.
The MLC Foundation honours all supporters
We thank and acknowledge all our loyal donors. Your commitment is vitally important to the continued delivery of excellence in education, enabling our students of today and tomorrow to become the citizens the world needs.
Meet the Foundation Committee
Claire Rogers is a globally experienced strategic executive with expertise in commercial and for purpose organisations in finance, education, and aid and development. She was formerly the CEO of World Vision Australia and Head of Digital Banking at ANZ and now leads two startups, one in leadership and one in digital technology automating child safety. She is passionate about championing women and girls the world over to achieve their potential whatever their start in life.  An experienced fundraiser, she is delighted to be leading the Foundation Committee on behalf of the Board and facilitating a strong giving program loved by the school community and alumnae that enables more world ready women to step out to lead change for a better world!

"Philanthropy has always been a powerful and transformational catalyst in MLC's history. The Foundation continues to have the power to develop our College in scholarships, facilities and programs that enrich and equip our students to achieve their potential."
Elida Brereton – Old Collegian (1961) and Retired School Principal
"I would love my old school to be well supported by generous gifts and bequests to help future students realise their hopes and dreams: they deserve the best from this wonderful College."
Catherine Law – Executive Director of Prime Value Asset Management
"We on the Committee are privileged to collaborate with MLC – a school which provides innovative education and wellbeing support for equipping and empowering girls for an ever-changing global environment."
Gabrielle Lim – Old Collegian (2008) and Owner of Immersive Designs
"Every student who attends MLC is a beneficiary of the generosity of prior generations. As a recipient of an MLC scholarship myself, I am particularly appreciative. It is my privilege to continue the tradition and endeavour towards providing more opportunities to students."
Becoming a Foundation Member
All donors who have given $5000 or more are extended membership to the MLC Foundation. The Foundation develops and promotes a rich and enduring culture of philanthropy to ensure the College's strong future. The MLC Foundation recognises the generous support of our community via the following membership levels:
| | |
| --- | --- |
| ​Foundation membership category | Cumulative giving over time |
| Member | $5,000 |
| Fellow | $10,000 |
| Senior Fellow | $25,000 |
| Companion | $50,000 |
| Senior Companion | $100,000 |
| Benefactor | $250,000 |
| Patron | $500,00 |