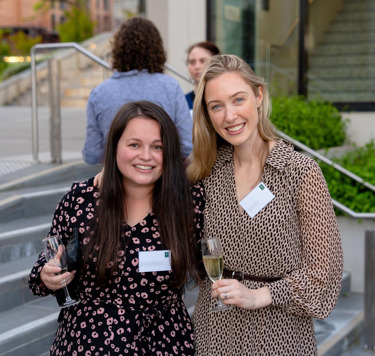 A global community of over 30,000
MLC Alumnae can be found all over Australia and the world, yet they retain a strong sense of pride, belonging, and gratitude for the College.
Many graduates return to MLC to talk with current students, sharing their professional experiences across a host of careers and providing guidance to current students as they navigate their studies.
Our Alumnae experience
Demonstrating the power of an MLC education, our alumnae are trailblazers in their chosen professions and can be found in almost every industry. Our Alumnae proudly demonstrate how an MLC education supports our students to achieve their best in the fields that interest them.
MLC taught me to embrace any opportunities that come my way and to go all in when it comes to my passions. The encouragement to pursue my interests in science and music throughout high school showed me I can achieve my goals.
–
Jessica Li (2008), Immunology Researcher and Cell Biologist
MLC gave me the academic inspiration and confidence to pursue my interests and achieve my goals by working hard and taking risks.
–
Helen Martin (Baker 1990), Masterplan Project Director, Science Museum London
MLC ingrained a sense of feminism and social justice. Reflecting these values, my medical career has allowed me to advocate for society's most vulnerable.
–
Samari Jayarajah (1996), Consultant Psychiatrist and Medical Advisor
I credit MLC with teaching me the importance of community and activism. The College's creative resources and passionate staff gave me early opportunities to write, direct and perform.
–
Suzi Taylor (1997) – Filmmaker, screenwriter and journalist
MLC's amazing science teachers and outstanding facilities and programs cemented my desire to pursue a career in science.
–
Susan Scott (1975) – Award-Winning Australian Physicist
Notable Alumnae
Since 1980, more than 100 members of the MLC Alumnae Community have been recognised in Australia Day and Queen's Birthday honours. We pay tribute to their leadership, commitment and service across many fields of endeavour. See the full list here.
Prominent alumnae include:
Lady Millie Peacock (Holden 1885) - First woman elected to the Parliament of Victoria
Dr Mary De Garis (1897) - Decorated military doctor and noted Geelong obstetrician
Ruth Flockart MBE (1910) - Music educator
Dr Lorna Sisley OBE (1933) - First female surgeon admitted to Royal Australian College of Surgeons
Monica Maughan (Wood 1950) - Australian actor in film, theatre, radio, television and ballet over a career spanning 52 years
Judy Dalton AM (Tegart 1953) - Former world number 7 tennis player, advocate for women in sport
Emeritus Professor Denise Grocke AO (1963) - Musician, academic and pioneer in music therapy
Lyndsey Cattermole AM (Canning 1965) - IT entrepreneur
Professor Christine Kilpatrick AO (1970) - Chief Executive of Melbourne Health
Deborra-lee Furness (1973) - Actress and adoption advocate
Professor Ingrid Scheffer AO (1976) - Pediatric neurologist and epileptologist prominent researcher
Davida Forshaw (1980) - International airline pilot with Qantas
Libbi Gorr (1982) - Radio personality, author and comedian
Jenny Lumsden CSC (1983) - RAAD Air Commodore navy nurse
Nicola Roxon (1984) - Former Attorney-General of Australia
Cate Blanchett AC (1986) - Oscar-winning actor
Lara Giddings (1990) - First female Premier of Tasmania
Alisa Camplin-Warner AM (Camplin 1992) - Australia's first female Winter Olympiad gold medallist
Lydia Lassila OAM (Ierodiaconou 1999) - Winter Olympiad gold medalist and Sport Australia Hall of Fame awardee
Meg Hutchins (1999) - AFLW player and Collingwood Football Club Operations Manager
Shannon Martinez (1999) - Innovative restauranteur and owner of Smith and Daughters
Jessica Jiang (2007) - International prize-winning flutist
We warmly invite you to remain connected with the Old Collegian community through the MLC Alumnae Portal.