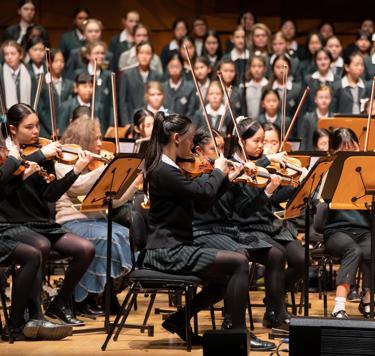 An exciting blend of musical experiences
We are proud to offer one of the most welcoming and comprehensive music programs in Melbourne, open to students of all ages and abilities across primary and secondary school.
Music students have the opportunity to participate in more than 20 ensembles, bands and choirs, including Amati Strings, Concert Choir and the Marching Band.
Students may explore one or more modern or classical instruments alongside vocal studies and music theory, led by some of Melbourne's most experienced music teachers and specialists. Students are encouraged to make the most of the diverse musical opportunities available at our College, with private tuition in the instrument of their choice available during the school day.
Our dedicated music facilities include the James Tatoulis Auditorium designed for larger ensembles and performances, and Flockart Hall which is ideal for small ensembles and soloists. There is also a recording studio used extensively by our VCE Music Performance and VCE VET Music students.
Each Term, our academic and co-curricular music students explore a diverse repertoire of genres and styles, whether as solo performers or as part of an ensemble or group. Most College ensembles are open to students without an audition requirement. The MLC Music Department prides itself on offering informal and formal opportunities for students to get involved, challenge themselves and develop their musical artistry and knowledge.
Upon invitation, many of our students participate in wider community events and have had the chance to perform on world-renowned stages, such as at the Melbourne Recital Centre for our bi-annual Spring Concert.
Groups and ensembles
The MLC Music Department hosts an exciting array of choral groups, bands, orchestras and ensembles where students from Junior to Senior School have the opportunity to be involved, whether or not they are part of MLC's private tuition program. These groups are involved in formal and informal concerts and performance opportunities throughout the year.
This Group provides an introduction to the basics of ensemble playing in a supportive environment with many performance opportunities.
These students learn about the basic skills needed to play in a String Ensemble.


This choir is an auditioned choir for Years 5 and 6 students. They perform regularly at a range of events throughout the year, both within and outside the college.
Students in this group learn about basic music performance and develop ensemble playing skills. The students have the opportunity to experience a wide range of musical styles.
These are small, auditioned choirs for Years 9 and 10 students and Years 11 and 12 students, respectively which provide them with the opportunity to learn and perform challenging repertoire.
Students sing a range of music genres from the classical choral to contemporary popular repertoire and show tunes. The Concert Choir is a non-auditioned, open entry choir.
The Amati String Ensemble is open to students from Years 7-12. The ensemble introduces students to a wide range of musical styles and fosters the development of orchestral string playing and ensemble skills
The Big Band offers students of an advanced level on keyboard, drum kit/percussion, bass, brass, saxophone and vocals an opportunity to play music from Jazz to Contemporary idioms.
This group is the introductory ensemble for brass, woodwind and percussion students. It provides an opportunity to develop and build teamwork and performance skills. The group regularly performs at school concerts.
The Concert Orchestra allows the more advanced performers the opportunity to participate in a large instrumental ensemble performing traditional orchestral repertoire.


The Symphonic Band is the wind band for more advanced performers and plays a wide range of musical styles. It provides students with possible performance opportunities including the Victorian Bands League Competitions.
This is an ensemble for advanced string players with the approximate level of AMEB Grade 6+, which provides students with the opportunity to play a wide range of music from the string ensemble repertoire.
The Marching Band involves woodwind, brass and percussion students and performs at a range of functions, including the ANZAC Day Parade. They are recognisable by their own distinctive uniform.
The MLC Drumline specialises in the drumline repertoire that is very popular in the USA.  The Drumline performs at special College events such as Founders Day and the Senior School Celebration Evening.  It also forms the drum section of the MLC Marching Band.
These groups offer the unique experience of playing Jazz/Rock in a small group. These groups perform at public and school functions throughout the year.
The Music Department is supported in all its activities by the Friends of Music, a dedicated sub-committee of the MLC Parents' Association. Music/Academic scholarships are also available to promising current and future students.