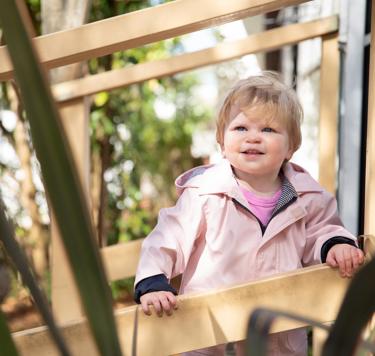 Dynamic co-educational childcare
Early Learning at MLC takes place in MLC Kindle, an innovative childcare and kindergarten centre located adjacent to our renowned Kew campus, just seven kilometres from the heart of Melbourne. 
MLC Kindle is a leader in childcare and early learning. Our co-educational program for boys and girls aged 6 weeks to 5 years exceeds national quality standards and consistently inspires self-confident, independent and inquisitive learners

Inspired by the educational project of Reggio Emilia and guided by exceptional and caring educators, Kindle students learn through play and inquiry and are gradually introduced to our comprehensive kindergarten program that covers literacy and numeracy, technology, and the arts, alongside stimulating music, Japanese, gymnastics and library experiences.

Our experienced, engaging, and creative educators genuinely care for your children and their wellbeing. Together, Kindle children and educators research concepts and make discoveries about the world.

While at Kindle, children benefit from the nutritionally balanced breakfast, lunch and snacks prepared by our on-site chef, and have access to our outdoor education program and landscaped gardens with soft fall surfaces, all designed to promote healthy development.
Programs available
Infant care and education from 6 weeks to 18 months
Toddler care from 18 months to 3 years (note: non-intake year)
3 year old kindergarten
4 year old kindergarten
To accommodate modern families and busy schedules, MLC Kindle is open from 7:30am to 6:30pm Monday to Friday for 50 weeks of the year, with the core program running from 8:30am to 3:30pm. Multiple program options of 2, 3 and 5 days are available to suit each family from birth to 3 years, while our 5-day 4-year-old kindergarten program provide consistency of learning for older children.
"We are an advocate of inquiry-based learning because it engages every child and offers multi-dimensional learning. We encourage children to reflect, wonder, and imagine as they learn, develop and prosper through our programs."
Kristen Myers-Tapim, Director of MLC Kindle
Award-winning care
In 2021, MLC Kindle received the highest eligible rating from The National Quality Standards for early childhood education and care in Australia, exceeding national benchmarks in children's health and safety, physical environment, staffing, relationships with children, collaborative partnerships and governance and leadership.
Furthermore, in 2018, MLC Kindle achieved certification from the Little Scientist Project, awarded by the Australian Government's Department of Education and Training to actively progressive learning environments that incorporate inquiry-based learning and STEM subjects in the curriculum.
Child Care Subsidy
MLC Kindle is an approved child care centre and the Child Care Subsidy is available for parents to claim depending on their circumstances, including the four-year-old sessional kindergarten program.
Apply now
Apply now to go on our waiting list. The College accepts applications any time after birth and, in line with MLC's Enrolment Policy, preference is given to early applications. Please note, Kindle Applications close on 30 April for the year prior to commencement.
If you have any further questions, please contact MLC Admissions at +61 3 9274 6316.