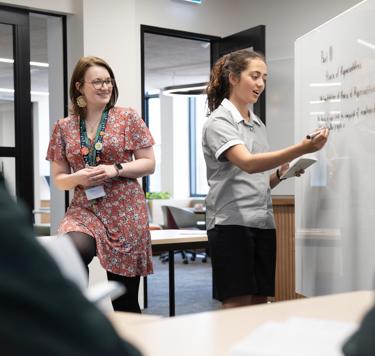 Middle School
Year 9 and 10
Paving their own way to success
Middle School focuses on the 'middle years' of our students' secondary education, where individualised learning and preparation for the future takes place alongside extensive and diverse leadership opportunities.
Middle School represents an age when students are presented with increasing levels of choice and exciting leadership opportunities.

Home group teachers, along with Student Coordinators, encourage and support students over the two years they are in Middle School.
Our students enjoy extensive academic and co-curricular programs within a stimulating and caring learning environment. There is an abundance of leadership opportunities to prepare them for their final years of schooling and beyond, and they are encouraged to discover new subjects that extend their interests. 
"Learning in Middle School promotes curious minds where students are actively encouraged to ask questions of the world around them and explore new ways of thinking. Through the development of the whole person, and nurturing of healthy relationships, students discover their potential. The Middle School approach gives students the tools to contribute positively to the world."
- Melissa Lange, Head of Middle School

Our recently redeveloped Year 9 Dr Wood Learning Centre boasts flexible, collaborative learning spaces, spaces for presentations, small group work and informal learning, complete with an adjoining amphitheatre and garden spaces.
A true highlight of the MLC experience is our eight-week residential program. Many Year 9 students elect to spend a term at our eight-week residential, remote campus, MLC Marshmead, located in East Gippsland. The innovative Marshmead program centres around sustainability, resilience building, outdoors education and community. While there, they learn through practical, hands-on activities and come away from the experience with greater levels of independence and courage.  
As students move into Year 10, we encourage each to stretch and challenge themselves. Through the breadth of subjects, regular workshops, coaching and careers programs, students explore and identify their strengths and interests, enabling them to make informed choices about their senior pathways.
Learning pathways
Year 9 students undertake interdisciplinary units to understand broad areas of knowledge, make links between them and create new understandings. As part of MLC's commitment to authentic, globalised learning, students are also guided through a local urban research project centred around Global Sustainable Development Goals, and problem-solving alongside a project focused on sustainability at our rural campus.
In Year 10, they choose from over 40 elective subjects, one of Australia's broadest curricula offerings, including opportunities for extension and enhancement. Through vast subject breadth, it's a chance to explore new pathways and start identifying their strengths and interests so that they can make informed choices about their senior pathways in VCE, VCE VET or IB.
Learning a new language extends students' literacy and capacity to communicate. It strengthens their understanding of the nature of language, culture, and the processes of communication. At MLC, students complete a VET Certificate II in Applied Languages over Year 9 and Year 10, a recognised qualification across Australia.
Areas of Study

 

Art and Design

Drama
 
English
 
Geography
 
History
 
Home Economics
 
Interdisciplinary Studies
 
Languages

Chinese
French
French: Partial Immersion
Japanese
Spanish (Beginning)
Language and Learning
English as an Additional Language (ESAL)

Mathematics

Foundation Mathematics
Mathematics
Mathematics Plus

Music

Music Industry
Music Performance

Physical Education
 
Religion and Society
 
Science

Science
Applied Science
Psychology
Biology
Wellbeing in Middle School
Middle School is a time when students begin to take charge of their own learning. They are developing greater independence and a positive sense of identity. The academic curriculum, co-curriculum activities and wellbeing program work together to support this personal and community growth.
The Wellbeing Program at the Year 9 level revolves around joint themes of personal independence and community belonging. Year 9 students experience a term at MLC Marshmead, our remote campus or opt for a Melbourne Term here in the city. These programs provide a truly memorable experience away from the traditional classroom, where students develop a positive sense of self, further develop collaborative skills and build supportive relationships.
In Year 10, student wellbeing rests upon the positive relationships between students and their Home Group teacher or Student Coordinator, which have been built over the previous year. The wellbeing theme in Year 10 is self-advocacy and personal responsibility. We seek to foster these qualities in the academic, personal wellbeing and community spheres. Students engage in regular learning and wellbeing conversations, where Home Group teachers help them to consider personal and academic goals and facilitate appropriate support for their academic or wellbeing needs.
Throughout Middle School, students are supported through our formal Wellbeing Program, which is developed around the social and emotional learning framework, PROSPER. Key aspects of the program focus on Positivity, Relationships, Outcomes, Strengths, Purpose, Engagement and Resilience. All students participate in Respectful Relationships workshops, which include guest speakers and group activities on personal rights, relationships, gender, help-seeking and conflict. The Program also accommodates other targeted issues, responding to the needs of students as areas of concern emerge, for example, sleep, nutrition and mental health. For many years now, Middle School students have participated in the Resilient Youth Australia survey, and the Wellbeing Program is responsive to the findings of that research.
Preparing for the future
Year 9 students attend Future Work Ready seminars to identify their personal strengths and and to understand the skills needed for fulfilling employment. This is further developed in Year 10 when students undertake the Morrisby Report survey and meet with their Careers Advisor to discuss pathways and Senior School subject selections. Students also have the opportunity to participate in our Work Experience program. At the conclusion of Year 10 studies, students are also supported through our Transition to Senior School program, which includes VCE and IB sessions and Study Skills sessions.