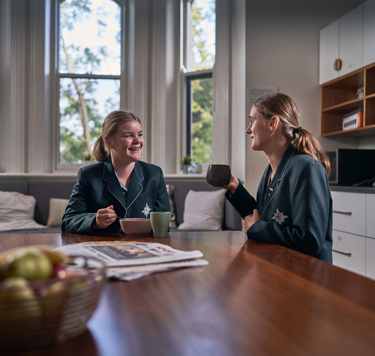 A boarding experience that gives girls more
Students "live a bigger boarding life" at our unparalleled boarding school, Tidderman House, situated on campus in the leafy suburb of Kew – just seven kilometres from the heart of Melbourne. Boarding students come from all around Australia and the world to experience everything MLC has to offer.
From the moment a new boarder arrives at Tiddeman House, she is always supported. The transition to boarding can be daunting, but our experienced and passionate staff are committed to delivering the best boarding experience for girls and young women from Year 7 to Year 12.
From academic support, scheduled Prep time, and subject tutoring, through to extensive wellbeing support through the Boarding House and the College, Tiddeman House is an extraordinary place for boarding students to learn, live and discover their true interests and passions. There's nothing like boarding at MLC.
Attend a virtual information session
Upcoming: Thursday, 1 June, 4.30pm AEST.
Held virtually and hosted by our Head and Deputy Head of Boarding, this 40-minute live session will provide insight into life as an MLC boarder, including our structure, our boarding community and wellbeing support.
Boarding community
Our Boarding House upholds a strong sense of community spirit, making it a warm and friendly place to call home. We provide the perfect balance between flexibility and structure, privacy and connection, resulting in the best boarding experience for students in Melbourne.
Life at Tiddeman House is never boring; MLC Boarders have an array of organised weekend activities to choose from, an annual Boarders' drama production and special event nights such as our annual Boarders' Birthday Night (a Boarding tradition dating back to 1889!)

Other activities include city excursions, visits to everything from the Zoo to escape rooms, and even a surf weekend in Geelong, a beach visit to Philip Island or a trip to the snow! Our supervised activities offer great camaraderie between all students and build lasting friendships.
Importantly, all students boarding at MLC are placed into one of six 'Tiddeman Families', with their own dedicated student leader. They dine together every Sunday night during a Family Dinner, which fosters a strong sense of belonging.
Furthermore, through a different Service Learning activity each term, boarders can also engage in social justice and community fundraising activities, which form the basis of being an engaged global citizen.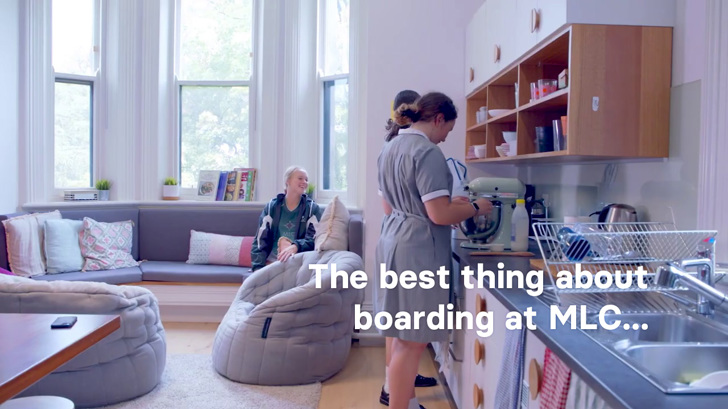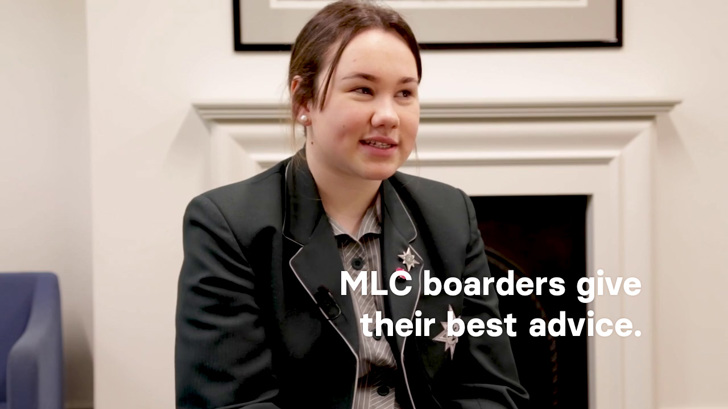 Supported to be her best
MLC offers an unparalleled breadth of learning and wellbeing experiences, designed to provide boarding students with world-class opportunities to achieve, explore and develop in both school and life.
Wellbeing
Our culture of community and care includes one-on-one wellbeing support, educators available around the clock, and a dedicated boarding wellbeing program (LACE program) that runs in conjunction with the comprehensive College wellbeing framework supporting all MLC students during the day.
Boarders are supported by our innovative LACE program, which equips them with crucial life skills related to their mental and physical health and wellbeing. LACE stands for Lifeskills, Activities, Community and Engagement and it underpins the holistic and pastoral care of all boarders, encouraging them to grow in confidence and independence and to develop a strong sense of belonging.

LACE invites renowned adolescent psychologists and health and fitness experts to provide workshops to our students throughout the Term and is an extra layer of care on top of the support delivered by our Boarding Staff and the College wellbeing programs, learning support and counselling services.

In Tiddeman House, an exceptional culture of care is proactively cultivated, with supervisors and staff all fully trained in ABSA's Duty of Care, Youth Mental Health First Aid, First Aid Level 2 and Anaphylaxis response.  
Academic Support
Boarding students are well-supported in their studies with dedicated preparation time in our well-resourced library, qualified teachers among our Boarding House staff, and access to external tutors.

To further enhance good study habits, MLC partners with specialist tutors who come in twice a week. They teach boarders revision techniques, essay writing skills, and how to undertake research free from distraction.
After school hours, our students have dedicated prep time in order to complete their homework, with the support of our highly qualified staff. Furthermore, by holding these sessions in the school library, there is a myriad of resources at their fingertips. This is one of the many perks of having our Boarding House located here on campus.
–
Jane Shone, Head of Boarding
Explore and develop her talents
Boarders are encouraged to embrace life at MLC in order to enrich their learning, extend their friendships and improve their wellbeing.
MLC offers one of the largest and most varied curricula in Australia, and we enthusiastically encourage our boarders to embrace the diverse range of activities available - with 30 sports and a wide range of orchestras, ensembles, choirs, committees and clubs, there is something for everyone. They are all designed to enrich their learning, extend their friendships, and improve their wellbeing.
Our College facilities include our renowned Music School and Physical Education Centre for lessons and tuition, as well as dedicated Boarding sporting programs.
By living on-campus beside MLC's cutting-edge facilities our  boarding school empowers young women who demonstrate elite ability in sport to pursue their ambitions, increase their training regime and reduce travelling times.
I've gotten to meet a lot of the older girls through the Science club and through boarding at Tiddeman House. There's so many different clubs and co-curricular activities, you're bound to find other people that have similar interests. I knew boarding was the right fit for me when it felt like I was part of a real community.
Steps to enrolment
Our Boarding House Handbook contains detailed information about boarding at MLC, including the enrolment process and common FAQs.