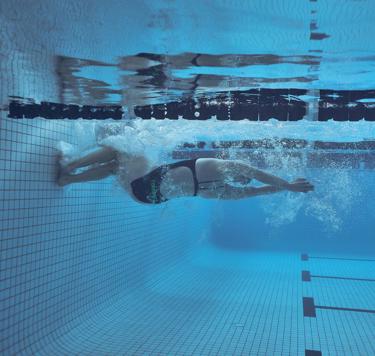 A top-ranked swimming club in Melbourne
MLC Swimming comprises both our Learn to Swim Programs and competitive programs, run in partnership with the MLC Aquatic Swim Club.
MLC Swimming offers both MLC and non-MLC students an opportunity to extend their skills by participating in our award-winning Learn to Swim program with lessons available from 3 years of age, and competitive swimming programs run in partnership with the MLC Aquatic Swim Club. Our competitive pathway is recognised nationally as a high-ranking club for athletes, both male and female.
Learn to Swim
Since 1991 our Learn to Swim program has built a strong reputation for teaching the fundamentals of swimming and water safety.
Lessons are conducted by qualified instructors who aid and guide students through 8 distinctive pathway levels. Each level has a unique set of swim skill targets and milestones that help develop the individual's swimming technique and endurance.
Classes run after school Monday-Thursday and on Saturday mornings.
Water familiarisation, independent movement through the water, basic floating and survival skills.
Increased confidence and body awareness in the water and develop independent propulsion without aids.
Learn foundational armstrokes, strengthen kick and increase independence in deep water.
Consolidate arm action in freestyle and backstroke over longer distances and introduce breaststroke kick on back and butterfly kick.
Continue strengthening and refining freestyle and backstroke technique and butterfly kick, introduction of breaststroke kick and arms
Consolidation of freestyle and backstroke over a greater distance, the introduction of breaststroke technique, butterfly arms and diving.
Consolidate technique in all strokes with particular attention on breaststroke and butterfly. Introduction of race skills
Continued focus on technique and endurance, including race and training skills in preparation for squad-based sessions.
Once students have progressed through our Learn to Swim levels, students can progress into one of our non-competitive squads: Junior District Squad or Senior District Squad.
Swimmers who show an interest in competitive swimming can be assessed to join the competitive squad program.
We also offer holiday programs during school term holidays. Please complete the enquiry form below, and one of our Learn To Swim team will contact you when the holiday program information is published.  
Competitive swimming at MLC
MLC Swimming runs a competitive squad program in partnership with MLC Aquatic. The Club is a community-based competitive swimming club that trains predominantly at MLC in Kew. The Club promotes the development of swimmers of all genders and at every stage, from a junior novice level, through to international level. 
We pride ourselves on our positive club culture, which is built around respect, commitment, unity and communication. We aim to facilitate a positive, team-based learning environment across our club structure to assist our athletes in reaching their potential.
Our squad program is run by a team of qualified and experienced coaches who have had success at National and State level competitions having placed swimmers on senior and junior Australian and Victorian teams. The coaching staff prescribe a balanced training program based on world-leading practices and are constantly looking for new and innovative ways to create growth and improvement in our athletes. The coaches are also supported by a qualified and experienced strength and conditioning coach. Our Coaches are passionate about ensuring that our athletes can reach both their swimming and academic goals and work with each individual athlete to ensure this can be achieved.
In 2022 MLC Aquatic placed 6th at the Australian Age Swimming Championships and 2nd at the Victorian State Championships.
Junior Squad swimmers train 2-4 sessions per week and multiple dry land sessions. This squad provides an introduction to training for competition to junior level competitions and novice meets.  Swimmers are expected to join the MLC Aquatic Swimming Club and to compete in district and club level competitions.
Development Squad swimmers train 3-5 sessions per week with multiple gym/dry land sessions incorporated into their training  Swimmers show a high level of ability in competitive swimming and a strong desire to improve their training and competition performances heading towards State Age qualifying times.
State Squad swimmers train 5-6 sessions per week with multiple gym and dryland sessions. Swimmers are expected to attend training and competitions as prescribed by the coach. Swimmers in this group are qualified for or aiming to qualify for the Victorian Age Championships and are aiming to progress towards Age National qualifying times. 
National Target Squad swimmers train 5-6 sessions per week with multiple gym/dryland sessions per week. The National Target Squad primarily caters for swimmers qualified or aiming to qualify for the Australian Age or Open Championships. The squad also facilitates, with discretion from the coaching team, training opportunities for swimmers at a State or National level who are unable to commit to full training loads due to study commitments.
National Squad swimmers train 7-8 sessions per week with multiple gym/ dry land sessions per week.  Swimmers are expected to make a full commitment to the training and competition schedule as set by the Coach. Swimmers in this group are aiming to qualify for and compete at the Australian Age National Championships and Victorian Age and Open State Championship.
National Performance Squad swimmers train 8-9 sessions per week with multiple gym/dry land sessions per week. Swimmers are expected to make a full commitment to the training and competition schedule as set by the Head Coach. Swimmers in this group are aiming to final and medal at Australian Age Nationals, make semi-finals and finals at Open National Championships and gain selection on Australian Junior, Youth and Open Teams.