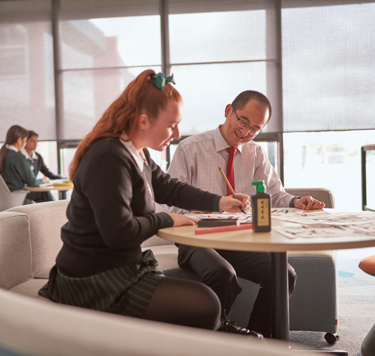 Work for a leader in girls' education
MLC is a premier employer of teachers and educational support staff in Melbourne. Employment at MLC means being part of a talented, motivated and well-resourced team that works together to ensure the best possible outcomes for all MLC students.
Our staff are a team of highly skilled and committed teachers and educational support staff. The passion and enthusiasm of MLC's staff underpins the College's enviable culture of learning and teaching excellence.
Job opportunities and teacher vacancies come up intermittently, and enthusiastic candidates of diverse abilities, ages, and experience are encouraged to apply or register their interest.
Our commitment to diversity and inclusion
MLC values the diversity of knowledge, thought, and experience and believes that a welcoming and inclusive culture is important for learning and teaching and facilitates a positive staff, student, and alumnae experience. We learn and work in solidarity with and from Aboriginal and Torres Strait Islander people as Australia's First Peoples and as the Traditional Owners and Custodians of the land, sky and water. We foster a safe community that celebrates diversity, uniqueness, and respect for differences of people of every faith, ethnicity, age, ability, neurodiversity, culture, language, gender identity, sex and sexual orientation.
Our employment benefits
MLC offers competitive remuneration and benefits, an outstanding learning culture, ongoing professional development and significant staff wellbeing support. In return, MLC staff are expected to demonstrate a commitment to professionalism and adherence to high standards of ethical conduct and reflect MLC values in their behaviour.
MLC fosters an environment of lifelong learning through comprehensive professional development programs to ensure that our highly qualified staff continue to grow and build on their knowledge and skills.
The College facilitates year-round workshops and training sessions and endorses external professional learning opportunities, to give you the opportunity to reflect on, evaluate and improve your professional practice.
Through cycles of continuous improvement with a wide range of professional development, MLC teachers are also invited to participate in research and evaluate the impact of their teaching practices through multiple university partnerships that are regularly established (such as University of Melbourne, La Trobe University and Curtain University. Teaching at MLC is dynamic and adaptive, and the classroom is regularly revitalised by new teaching practices and methodologies that keep our students engaged.

Through Teacher Learning Communities (TLCs) and Collaborative Practice Groups (CPGs), our teachers frequently meet to learn from one another and plan how to implement new teaching techniques. TLCs meet twice a term to explore and discuss evidence-based effective teaching practices, plan for implementation in the classroom and then share their practice. Just as we encourage our students to be critical thinkers, we also encourage our teachers to be reflective and ever-adaptable.
In addition to professional training and development events, the Staff Development and Research department provides you with the opportunity to access an extensive range of academic and professional papers and online training, at any time.
Teaching and non-teaching employment opportunities readily arise at Kew, Marshmead and Banksia campuses and employees may apply for positions at any one of these sites.
MLC is an industry leader and innovator, developing resources, sites and facilities that support students' learning in a dynamic 21st century environment. This provides our teachers with the best opportunity to deliver a dynamic learning experience to their students. MLC invests in facilities and resources, which deliver a world-class education for MLC students through the integration of technology to enhance the learning experience.
The diverse and extensive MLC community provides a rich source of opportunity, personal growth and sense of belonging for all members. No matter what one's role is in the workplace, MLC is committed to supporting staff to be happy and healthy. Positive wellbeing is supported through the following offerings:
A voluntary, confidential and complimentary counselling service is offered through an external provider. Access EAP can assist with personal, family or work-related matters impacting your overall wellbeing. They also offer guidance on professional or personal goals to help you achieve your full potential. This service is available to all employees and their immediate family.
MLC's EAP Ambassadors are made up of MLC volunteer staff who are trained to provide confidential and impartial support to Staff to help foster an environment which meets the legal and ethical obligations relating to Equal Employment Opportunity (EEO)
We also offer staff and their families, free, confidential, 24/7 access to a mental health and wellbeing platform, Unmind – which can be accessed from any device, anytime, anywhere. The platform offers a variety of expert tools that are rooted in neuroscience, cognitive behavioural therapy, mindfulness and positive psychology. 
The opportunity for staff to unwind and relax with free Yoga and Pilates classes and access to the gymnasium and dance studios
The opportunity to take time out to socialise with your colleagues at regular all-staff morning teas.
 Methodist Ladies' College is committed to ensuring that you can balance your work and family commitments. To this end, depending on your tenure at MLC, you are eligible to receive full pay for the first 14 weeks of your 12 months' parental leave. This is in addition to your entitlements under the national Paid Parental Leave Scheme. Where possible, MLC will give you the opportunity to return to work on a part-time basis.
Additionally, MLC offers generous Carer's leave conditions above the minimum legislative requirements, for those times that you need to care for your family member. When your child is ready to start childcare, you can receive a discount to send your child to MLC Kindle which is located on the Kew campus. The play-based learning program welcomes both girls and boys aged six weeks to five years and is staffed by a dedicated and experienced team of Educators. The program combines high-quality care with a high staff-to-child ratio, a family-centred approach and MLC's renowned educational expertise. MLC Kindle uses aspects of the Reggio Emilia philosophy, and all practice and documentation are informed by the National Quality Framework.