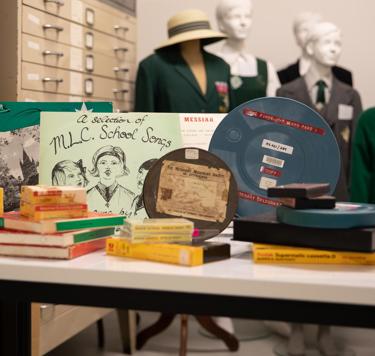 The preservation of MLC's history
In July 1960, the College Council requested the formation of an Archives Committee to ensure that the College's history and memories were preserved for future generations.  The task was taken up by the Old Collegians' Club with Edna Cornell (Pryor 1924) as Convener.
Through the efforts of this Archives Committee and later, the staff who have held the position of College Archivist, the MLC Archives are a comprehensive and vitally important resource for the College. The ongoing role of the College Archivist aims to continue the collection, preservation and promotion of items relating to MLC's history in order to safeguard the integrity and significance of the collections, which document the progress of MLC and women's education in Australia.
Archival Research and Information Requests
MLC's archive collection preserves the unique story of our 140 year history and the contributions of our founders, past principals, and past students. The collection contains images, written documentation, and a significant repository of historical items, important to our heritage. MLC is no stranger to world events, having carried on its mission throughout two World Wars, the Spanish Influenza Pandemic, the Swinging Sixties, the Cold War, and many other periods of note that will be of interest to journalists, social historians, history students and the general community. MLC's Archive preserves College memories for current, past, and future generations.
The MLC Archives are happy to assist with various requests including:
Family history research
General history research
Education verification letters
If you'd like assistance with any of these areas, please complete the form below.