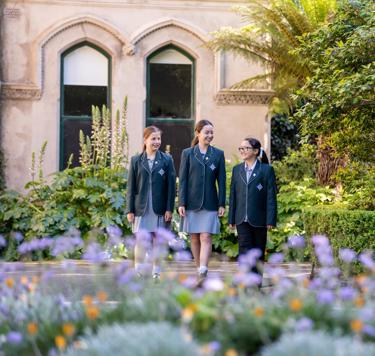 Unified as a community
MLC students wear their uniform with pride. In their uniform, our students are immediately identifiable as belonging as members of one of the most respected girls' schools in Melbourne.
Why have a school uniform?
The MLC school uniform creates cohesion and fosters a strong sense of pride in belonging.
For students, the uniform provides a clear sense of purpose and makes it easy to select what to wear in the morning. Our uniform is a visual cue that the College takes pride in, and cares for, its students by choosing high-quality designs and fabrics, along with activity-appropriate options that help them to achieve their best.
Students particularly appreciate the way we integrate achievement into their uniform through add-ons and accessories like ribbons and pins. Notably, our expansive uniform collection enables them to evolve their style over time and meets the diverse needs of students across all stages of development.
Our uniform's heritage
MLC student uniform has a recognisable style, with the MLC eight-pointed star as our crest, and dark emerald green as our traditional College colour.
Our uniform's heritage dates back to 1906, when a green hatband and tie were first worn by students over their own clothing. Then, in the 1920s, MLC's first complete uniform was introduced and consisted of a tunic, blouse, green tie, blazer, and hat worn with a green hatband. This uniform had various changes, although always in a palette of green, white, silver and grey, until 1975, when the uniform was modernised to a blazer, skirt, blouse and V-neck jumper, along with a lighter dress for the summer months. We were also early adopters of pants and take students' age and life stage into consideration. The current uniform was introduced in 2002.
Our uniform today
Today's College uniform collection offers a wide range of flexible options of practical garments that are not only longwearing but comfortable.
The warm and cool weather options cater to Melbourne's seasonal weather and ensure students are suitably dressed all year-round, while the PE and sports uniforms allow students to participate in physical activity with comfort and ease.
MLC uniforms are available for purchase from the MLC Uniform Shop on campus, Bob Stewarts in Kew, or online.
Secondhand uniforms are also available at the MLC Uniform Shop. The staff at both the MLC Uniform Shop and Bob Stewart provide specialist advice from professional staff.
For further information, please contact the MLC Uniform Shop on (03) 9274 6422 or email uniform@mlc.vic.edu.au.
Current families may find more information on opening hours on the parent portal myMLCfamily.
Visit myMLCfamily for Uniform Shop hours and information
Visit the Bob Stewart online store
Uniform Brochure
Further information on how to wear our uniform, and more detailed Uniform Shop information.
Uniform Brochure (PDF) (2262KB)
Download