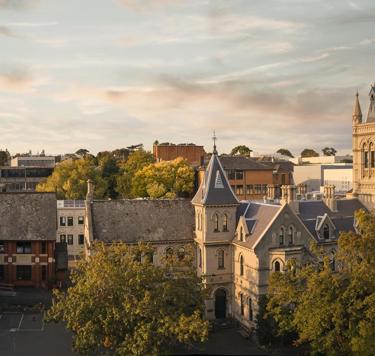 A source of warmth, security and welcome
Our Tiddeman Boarding House offers a warm and welcoming family atmosphere to approximately 100 students from Year 7 through to Year 12. Boarders get to experience all the opportunities that the College and Boarding House has to offer while creating lasting friendships and learning independence.
Tiddeman House is a three-storey building with all boarders' and Year Level Supervisor's rooms located upstairs. The ground floor, however, is the main hub where boarders sign in and out throughout the day.
Our facilities are airy, recently renovated, with comfortable and inviting furniture and an abundance of natural light. All students have somewhere to go and relax, whether that be the Common Room or the Sun Room; areas equipped with lounges, televisions and kitchenette facilities (and a favourite spot for weekend baking, craft activities, movie nights and boardgames), our internal courtyard garden, the art space, or our in-house gym.

Tiddeman Boarding House is homely yet secure, employing comprehensive modern measures such as external cameras on the main access points, 24-hour security patrolling the grounds and digital Star Cards for access to the building.

The girls at MLC Tiddeman House safely build their independence with around-the-clock care.
Local area benefits
For many students, it is their first time living in a bustling city, and there is great excitement in seeing the city skyline for the first time, and in visiting the unlimited museums, galleries, libraries and other attractions located around Hawthorn, Kew and Melbourne's CBD.
We are located near the centre of Hawthorn and at the top of Glenferrie Road, with a cinema, countless shops and a huge variety of cafes and eateries within short walking distance, ensuring that there are plenty of things for boarders to see and do together.

Coming to MLC provides your daughter with educational opportunities that may not be on offer in her home area, whether that is sport, music, dramatic arts, social justice, leadership programs, global learning programs, or one of the many learning pathways within our vast curriculum.

For those not from Melbourne, boarding gives students the opportunity to familiarise themselves with the city and makes transitions into future tertiary studies far easier. For those living nearby, Boarding is a way to fully immerse themselves in College life. We are proud to foster a community culture of support and diversity where every student can excel.
Tiddeman House is easily accessible by public transport. The route 16 tram stops directly outside MLC on Glenferrie Road, while Glenferrie Station offers direct train access to the city centre, and a dedicated MLC Boarders' mini-bus provides direct transfers to Southern Cross Station.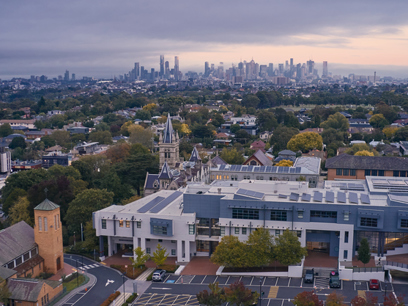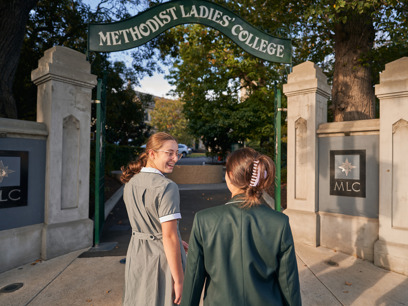 Exceptional facilities and resources
Renovated in 2017, Tiddeman House combines tradition with contemporary living and technology, offering MLC girls exceptional in-house facilities, such as an art and mindfulness space, several small common room areas, an in-house kitchen, study rooms, and gym.
At Tiddeman House, MLC boarders have access to several common areas. They can relax in The Sun Room, grow fruits and vegetables in The Courtyard, finish homework, chat about their day, bake cakes in the communal, family-style kitchen space, or practice their craft in the dedicated music space.
MLC boarders have access to personalised health care, including a dedicated registered nurse within the boarding house who organises and supports students with health appointments and access to the MLC Health Centre. External resources such as medical centres and dentists are just beyond the school gates down Glenferrie Road.
History and traditions
Tiddeman House offers students modern living and learning experiences, buoyed by a proud heritage and living traditions.
MLC has a long and proud history, with Tiddeman Boarding House acting as the heart of the College for 140 years.
The Residence, now called Tiddeman House, was MLC's first building – and proudly remains as one of the finest examples of Gothic Revival style architecture in Melbourne. The Residence was used for classrooms and offices and provided a home for boarders, resident teachers, the Principal and his family. The name Tiddeman House honours Margaret Tiddeman, Lady Superintendent of MLC (1882-1896) and first President of the Old Collegians' Club (1904). Today, Tiddeman House contains the living tradition of boarding at MLC

Tiddeman House is MLC's most iconic building. Construction took place in two stages, the West Wing opened in 1882, while the Tower and East Wing were finished several years later in 1885. Tiddeman House is one of the finest examples of the Academic Gothic architecture style in Melbourne.

There are many decorative elements across the building, many of which have symbolic meanings - lilies for purity, oak leaves for longevity, sunflowers for happiness and doves for peace. The elaborate features were intentionally chosen by first Principal, Rev Dr William H Fitchett, to make a statement. He wanted Tiddeman House to both impress all those who saw it and make it feel like a "grand home", especially for the boarders.

All of MLC's Principals between 1882 and 2004 lived in the lower east wing of Tiddeman House, aptly named The Residence. Each Principal, along with their families, had an active role amongst the lives of our past boarders, with many Old Collegians stating that they felt like part of the family. To further enhance this sense of family, Cara Fitchett, the wife of Principal Fitchett, created the annual tradition of the Boarders' Birthday Night, the first of which was held in 1889.
This night, a highlight of the Boarding calendar, is celebrated by all boarders. Long-standing traditions include every boarder invites a day school friend, the youngest boarder blows out the candles on the cake and the longest serving boarder cuts the cake.
Boarding virtual information sessions
Register your interest to attend a virtual information session during mid-May 2023.
Held virtually and hosted by our Head and Deputy Head of Boarding, this live event will provide insight into life as an MLC boarder, including our structure, our boarding community and wellbeing support for our students.
Scholarships and enrolment
Boarding Scholarships applications for 2024 entry are now open. Our Boarding Scholarships , include the Boarding All Rounder, Principal's Boarding and Principal's Indigenous Boarding.
The Boarding House Handbook provides more information about boarding at MLC, including steps to enrolment and common FAQs.