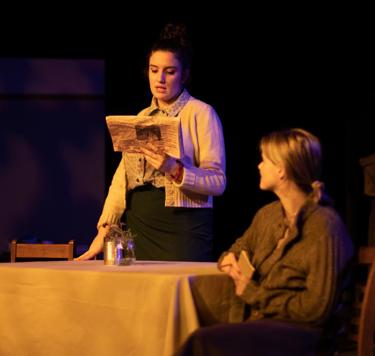 A space for girls in the Dramatic Arts
MLC's co-curricular Dramatic Arts program features a strong emphasis on our students' individual needs and the development of self-confidence and self-awareness through participation in experiential learning and a diverse range of productions.
Students explore their creativity and develop collaboration, communication and problem-solving skills in a welcoming and fun-filled atmosphere led by our exemplary Drama teachers and practitioners.

For the budding actor, sound technician, playwright, or director, there is plenty of opportunity to engage in the Dramatic Arts, both on and off the stage and across many year levels, with the benefit of professional studios, stages, performance spaces and theatre technologies on campus.
 "Students create meaning as drama makers, performers and audiences as they enjoy and analyse their own and others' stories and points of view. Like all art forms, drama has the capacity to engage, inspire and enrich all students, excite the imagination and encourage students to reach their creative and expressive potential."   Dana Duncan – Director of Dramatic Arts
College productions, clubs, festivals and special events
To enhance our dramatic arts curriculum, students can participate in our vast array of performances, including Year 10 and 12 Plays, the Year 8 Scotch/MLC Play, Senior School Performing Arts Festival, Middle School Drama Music Festival, Junior School, Senior School and Junior Secondary School Musical, as well as Drama Club performances, festivals and special events.
The Independent Student Theatre Company (ISTC) provides students in Years 9 - 12 with the opportunity to work together and develop student-run performances. Those involved in the group have the opportunity to shape its direction. Whether they are interested in writing, directing, acting or crew roles, the ISTC is a place to meet other students with similar interests and collaborate on projects.
Speech and Drama is a co-curricular subject designed to focus on the technical aspects of communication and performance. Courses are centered on student's interests and vocal needs, and programs are designed to meet the individual needs of the students. The Australian Music Examination Board's (AMEB) Drama and Performance and Voice and Communication syllabuses are practical examinations that set out educationally appropriate standards for Speech and Drama students and are offered to students in Years 7 to 12.
The Dramatic Arts Department offers an exciting after school drama program for students interested in broadening and gaining more experience in the development of drama skills. It is open to all students regardless of experience and focuses on developing confidence within a dramatic context.


Theatre Sports provides an opportunity for students in Year 7 to 12 to come together every Thursday lunchtime to have fun developing their improvisational skills, in a non- threatening environment. Students are invited to participate, or they can simply be part of the audience.
Students expand their understanding of theatre by attending a diverse range of professional performances and backstage tours.