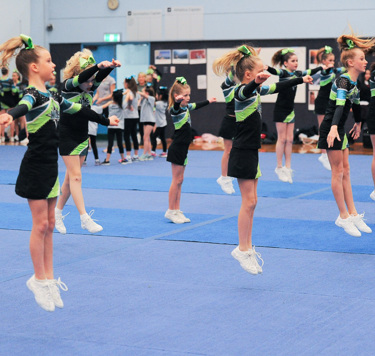 Cheerleading classes for all ages
MLC Cheer is a fast-paced and dynamic cheerleading program in Melbourne, suited to girls of all ages and abilities. We offer recreational Tumbling classes, flyer coaching, and competitive teams.
Cheerleading combines gymnastics, tumbling, dance and acrobatics into one, and improves coordination, strength, flexibility, and fitness. Teams must develop cooperation, trust, and responsibility while forming new friendships and bonds. Cheerleading helps to boost self-esteem and confidence through performance and goal setting.  

We have three core offerings within Cheer for both MLC students and non-MLC students: our community All Star program, which caters to beginners through to advanced athletes, Tumbling classes, and Flight School. Our Scholastic Cheer program is offered solely to MLC students.


All Star
Join one of our teams, from introductory through to competitive, and become part of a fun, fast-paced team sport.
All-Star Youth Novice is our introductory cheerleading team that trains once a week for an hour The All-star youth novice team competes in a number of competitions each year and participates in the internal showcase each year. All athletes in the group are beginners to cheerleading.
Our All-Star Junior Level 1 cheerleading team trains twice a week for a total of three hours and compete in a number of external competitions each year. This team is comprised of athletes that wish to work hard to perfect their beginner cheer skills. There is no minimum requirement to secure a place on this team.

Athletes that do not yet have a back and front walkover are expected to attend a designated tumble class in addition to their normal class to learn these basic tumble skills faster.
Our All-Star Senior Level 2 Team trains twice a week for a total of three hours. The minimum requirement for this team is a back handspring OR have a very strong stunting ability.
It is expected that athletes that do not yet have a back handspring will attend an additional tumble class to fast-track the required skills (except for athletes already enrolled in multiple levels/teams).
Tumbling
Alongside our cheerleading teams, we run tumbling classes weekly.
These classes aim to allow individual athletes to specifically work on learning and perfecting skills they have in their routine. As cheerleading is a team sport, regular team practices are used only to work on the skills that require everyone's participation, such as stunting, routine composition/ choreography and tumbling timing.
 
For the teams to score highly in the tumbling section of their score sheet, cheerleaders must demonstrate above-average skill technique as well as the ability to tumble in sync with the whole team. A lot of time is required for this as every athlete tumbles slightly differently; therefore, the time for learning and perfecting tumble skills is better learnt in a dedicated tumbling class.
Flight School
We introduced Flight School to our program during the lockdown in 2020, and it has been a great success and one of our athletes' favourite classes!
This class is open to all athletes wishing to improve their flexibility; however, it is targeted at flyers to help them achieve correct body positions that they will eventually do in the air while stunting. It is expected that all flyers across the program attend this class.


Scholastic Cheer
Scholastic Cheer allows MLC students the opportunity to cheer and represent their school in competitions.
The MLC scholastic cheer team is available to athletes who may already train within the MLC cheer program, as well as those who cheer for an external team, and those new to cheer all together.
Scholastic cheer offers both a junior team for those in years 3-6 and a senior team, for those in secondary school. It is an excellent opportunity for all MLC school students to have fun with their friends whilst being able to compete and work towards becoming the best in Australian School Cheerleading!
 
This Scholastic program is best suited for athletes and families wanting a lower-commitment Cheer team, with some of the training hours completed during school lunch breaks. We also encourage our All-Star athletes to also compete in the Scholastic program if they are an MLC student.