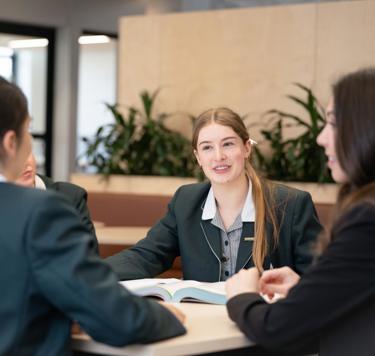 For girls who demonstrate great potential
As one of Melbourne's most respected all girls' schools, there is nowhere better than MLC for scholarship students to excel. At MLC, scholars will discover like-minded peers, a diverse and inclusive community, incredible teachers, and amazing curricular and co-curricular opportunities that amplify their abilities and strengths.
Academic scholars are expected to take advantage of the vast learning enrichment opportunities and participate in the co-curricular activities offered by the College, in order to demonstrate and explore their commitment to College life and their academic goals.
Shortlisted candidates display the MLC values of respect, responsibility, compassion and courage.

These are ACER academic tested scholarships.
| | | | |
| --- | --- | --- | --- |
| Scholarship Name | Entry Year Level | Means Test | ACER Test |
| Academic | Years 5, 7 and 9 | No | Yes |
| Principal's Scholarship | Years 7, 9, 10 and 11 | Yes | Yes |
| Dr Wood Scholarship | Years 9 and 10 | Yes | Yes |
| Eville Orford (Penn-Tonkin) Scholarship | Years 7, 9, 10 and 11 | Yes | Yes |
2025 Entry Scholarship Applications are now open. Applications close on 19 January 2024 at 5pm AEDT.

Duration for Years 7-11 scholarships is for the entirety of the student's secondary schooling. Year 5 scholarships have a duration of 2 years.
Eligibility
Must be an Australian citizen, permanent Australian resident or temporary resident.
Currently at MLC or attending another school.
Must register for the ACER Scholarship (academic) test as well as submit an MLC Scholarship Application.
Means-tested scholarships require financial assessment eligibility. This assessment will be required to be completed if your daughter is shortlisted for a scholarship.
Value
A percentage of the annual tuition fees and technology levy. This includes computer, technology support and peripherals.
Documentation to be uploaded with the Scholarship Application
The student's most recent School Report.
The student's most recent NAPLAN test results.
Evaluation of a 200-word statement on why the candidate is applying for this scholarship; this should be written by the student, demonstrating her accomplishments, talents, any leadership experience and her reasons for wanting to attend MLC.
A passport-sized photo of the student.
Conditions
Scholarship holders are expected to complete their secondary education at MLC. Please refer to the MLC Scholarship Terms & Conditions.
About the Eville Orford (Penn-Tonkin) Scholarship:
The Eville Orford (Penn-Tonkin) Scholarship has been endowed by Mr David Orford, son of Eville, in loving memory and deep abiding respect for his mother and her achievements. She attended Methodist Ladies' College (MLC) from Year 8 to Year 12 and was a Prefect in her final year in 1934.