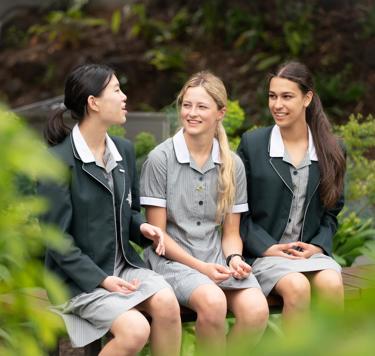 For aspiring First Nations students
Awarded to Indigenous students who demonstrate a concern for the broader community, a connection to their cultural heritage, leadership abilities, and a commitment to their academic studies.
At MLC we have a strong commitment to diversity. We value developing intercultural understanding through our local, international and Indigenous community links.
MLC scholars have a wide range of interests and talents and possess a readiness to actively participate, engage and contribute as a member of the MLC community.
Our Indigenous scholarship program has a proud history and is offered on an annual basis. We recognise that our Indigenous students often play a key role in increasing intercultural understanding across all aspects of the College. For scholars, a scholarship is a mutually beneficial and positive exchange, where the College learn about, learn from, and learn with Indigenous people.
The successful recipient will be an active member in our College Indigenous Program and co-curricular activities and show a strong commitment to building shared intercultural understanding.
MLC partners with a number of organisations and schools that support indigenous students, including the Melbourne Indigenous Transition School (MITS) and Worawa. In addition, MLC welcomes applications directly from individuals who fulfil the criteria.
| | | | |
| --- | --- | --- | --- |
| Scholarship Name | Entry Year Level | Means Test | ACER Test |
| Principal's Indigenous Scholarship | Years 7, 8, 9, 10 and 11 | Yes | No |
| Principal's Indigenous Boarding Scholarship | Years 7, 8, 9, 10 and 11 | Yes | No |
2025 Entry Scholarship Applications are now open. Applications close on 30 August 2024 at 5pm AEDT.
Duration for the above scholarships is for the entirety of the student's secondary schooling.
Eligibility
Australian citizen who identifies as an Aboriginal or Torres Strait Islander (applicant must supply a Certificate of Aboriginality).
Currently at MLC or attending another school.
A candidate who would not ordinarily be able to afford the tuition fees.
Have previously attended primary or secondary schooling in a regional or remote area
Value
A percentage of the annual tuition and boarding fees and technology levy. This includes computer, technology support and peripherals.
Documentation to be uploaded with the Scholarship Application
The student's most recent School Report.
The student's most recent NAPLAN test results.
Evaluation of a 200-word statement on why the candidate is applying for this scholarship; this should be written by the student, demonstrating her accomplishments, talents, any leadership experience and her reasons for wanting to attend MLC.
A copy of the applicant's Certificate of Aboriginality (from a relevant authority).
A personal reference, such as a teacher or Aboriginal Educational Consultative Group or other Indigenous Senior Community member.
Conditions
Scholarship holders are expected to complete their secondary education at MLC. Please refer to the MLC Scholarship Terms & Conditions.
Apply via our Scholarships form
Apply for an MLC Scholarship via our online form, linked below. Applications close on 19 January 2024 at 5pm.
Invitation to Interview
Short-listed candidates will be contacted by email with an invitation to an interview. These will occur between 2 - 6 September 2024.

This email will also include a link to commence the process of understanding financial eligibility for means-tested scholarships.
Click below to begin your Application: