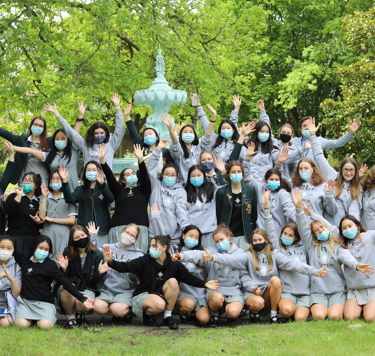 Class of 2021: Stories of Resilience
January 18th, 2022
Congratulations to MLC's Class of 2021 who received their university offers in mid-January.
Their course offers extend across the Arts, Biomedicine, Business, Culinary Management, Design, Laws, Science, Technology, and much more, representing the diversity of their career pathways and areas of achievement.

Each one of our Year 12 students demonstrated resilience and courage throughout the last two years - and have earned the admiration and respect of the entire College community. Here are just four of their untold stories.
 
Helen Huang
MLC student Helen Huang found herself trapped in China when international borders slammed shut as a result of COVID-19. She had returned to Shenzen to visit her family at the end of the school year in 2019. The friends she had made as a boarding school student at MLC were half a world away, and Helen faced the prospect of studying for the International Baccalaureate (IB) online in Shenzen. 

Far from MLC's boarding house on Glenferrie Road, where Helen had walked with her peers to enjoy bubble tea or a meal, nights watching movies and days browsing shops, the MLC student began missing her friends. "I had some really lovely roommates, who have become my best friends for life," she says.

Expecting that restrictions would ease by the end of the year, Helen made the hard decision to defer her IB studies in 2020, intending to return to the MLC campus the following year. But border closures and rolling lockdowns throughout Victoria made travel impossible. 

Faced with yet another hurdle, Helen overcame her anger and frustration, and chose to continue her IB online with MLC. "I remember saying, "It is so ridiculous that I have to study remotely, without my friends, my teachers and the campus," Helen says. But she found support from her peers at MLC. "We had an online group chat, where we could share our IB lives and struggles, and know we are in it together." 
 
Sophie Chiew
During her final school years, Sophie Chiew organised protests as part of the School Strikes for Climate — a movement of young people who have captured global attention with their demands for decarbonisation. She says extracurricular activities like this helped her through two turbulent years amidst rolling lockdowns and social restrictions.

Sophie worked with the national and Melbourne organising groups to execute major events. Collaborating with environmental and social justice organisations, community groups and unions, the students first staged an online protest on Zoom. "We had an online rally in 2020, because it was second wave COVID."

Students were encouraged to get in contact with their local MPs. "A big part of participating in democracy in Australia is getting in contact with the people who represent you, and letting them know what you want," Sophie says.

In May 2021, she helped organise a large in-person rally. "It was really exciting because there were so many people united on the same front, and so there was a lot of adrenaline. After months of putting in the hard work and planning, it was really nice to see so many people turn up and for that hard work to come to fruition." Sophie says lots of MLC students joined her on the day, largely those in the Green Team environment club, of which she was an active member. 

Over her time at the MLC, Sophie was involved in public speaking, debating and drama. She coordinated wearing a white ribbon for sexual violence on campus this year and was highly commended in 2020 for a video she made for the Parliament Prize, arguing in favour of LBGTQI rights. 

In recognition of her strong commitment to collaboration and community building for change, Sophie was awarded the 2021 ADF Long Tan Youth Leadership & Teamwork Award, and the (Krome) House Citizenship Award.
 
Chloe Taylor
Chloe Taylor has always dreamed of studying in the USA and — thanks to the International Baccalaureate (IB) — she feels she is set up to achieve her goals. 

"I have family over there, and I really like the sense of community that US colleges offer, with living on campus, the sports teams and all of that — so for me the IB was a great steppingstone to be able to achieve that goal, because it is so well regarded by admissions counsellors in US colleges," the 18-year-old says. "I am absolutely glad that I chose the IB."

As President of MLC's science club PRISM (People Really Into Science @ MLC), Chloe was also busy curating an inter-school conference that would see 16 research scientists speak at MLC, alongside interactive floor sessions and a careers panel. The adverts were out, tickets were selling, and the students were preparing to reach out to local media about the event, but it was ultimately cancelled due to COVID-19.

These challenges came on top of personal health concerns during Chloe's final school years. "When we were in the extended lockdown in Year 11, towards the second half of the year, I started having some health problems and was eventually diagnosed with juvenile arthritis," Chloe says. "It was quite difficult, trying to focus on completing my schoolwork while I was dealing with these problems. My mobility was limited; things like walking around the house, getting dressed, cutting bread for my toast in the morning were quite difficult and my parents had to help me out a lot. It was hard to stay motivated and focused."

Chloe says the school and her teachers were very supportive, making alternative arrangements for study, exams, and assessment. "I didn't want to give up on my dream of studying in the US because it has been my goal for so long," Chloe says. "I wasn't going to let anything get in the way of that."
 
Lavinia Barker
Lavinia Barker recently received an offer to study at Rice University, in Texas, in the School of Natural Sciences. While the 18-year-old MLC Prefect is most interested on science, she's glad her school experience at MLC pushed her to experiment with a wide range of pursuits. 

The College Prefect discovered two passions at MLC — rowing and music — that helped her to navigate her senior school years. "I never would have got into percussion in the first place if it wasn't for the Year 5 band program at MLC," she says. "So, I'm really grateful for that experience — to play an instrument that I never would have otherwise, and now I really love it," she says. Lavinia has been involved in drumline, rock and symphonic bands, and concert orchestra at MLC, trying out scores of instruments along the way.

Studying at MLC also introduced Lavinia to rowing, a pursuit which helped with managing stress and uncertainty during her senior years. "After online classes, I'd go down to the river and row till the sun went down. It was really nice, especially in the middle of winter when there were beautiful sunsets," Lavinia says.