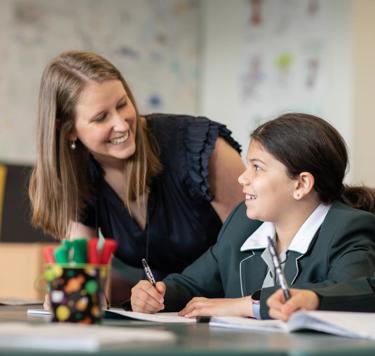 Our incredible teachers
MLC is fortunate to attract and retain many of the best teachers in Australia; teachers who are committed, experienced, collaborative, and life-long learners themselves.
MLC teachers focus on evidence-based learning methods, offering our students the most effective teaching practices. They stay at the forefront of education through their professional development and have a commitment to continuous improvement.
MLC is an exciting place to learn; our educators are dedicated to student's learning journey.
Maintaining high-quality teaching
We maintain the highest quality teaching staff in a number of ways. Firstly, just as we prioritise our students' wellbeing, we also prioritise staff wellbeing. MLC teachers have a vast array of wellbeing services at their disposal within the College, which ensures our teachers remain at the top of their profession.
Through cycles of continuous improvement with a wide range of professional development (on average 50 hours per year- well above the mandated 20 hours required by Australian Professional Standards for Teachers), MLC teachers are also invited to participate in research and the impact of their teaching practices through multiple university partnerships that are regularly established (such as University of Melbourne, La Trobe University and Curtin University). Teaching at MLC is dynamic and adaptive, and the classroom is regularly revitalised by new teaching practices and methodologies that keep our students engaged.

Through Teacher Learning Communities (TLCs) and Collaborative Practice Groups (CPGs), our teachers frequently meet to learn from one another and plan how to implement new teaching techniques. TLCs meet twice a term to explore and discuss evidence-based effective teaching practices, plan for implementation in the classroom and then share their practice. Just as we encourage our students to be critical thinkers, we also encourage our teachers to be reflective and ever-adaptable.
Meet our educators
Some of the passionate teachers behind MLC's exceptional student experience and learning outcomes.
The IB program provides amazing training in how to think as well as building a degree of self-sufficiency that students can draw on throughout their lives.
–
James Prowse, IB Coordinator
MLC strikes a balance between performance and participation. We will never turn a girl away from a sport, whether that's joining a team or developing an individual skill.
–
Michael Jenkins, Director of Sport
Languages are valued and promoted by the school through an extensive range of programs, including French Immersion.
–
Anne-Lise Llewellyn, Head of Languages
Our students have a high degree of exposure to practical skills that will prepare them for the demands of the workforce of tomorrow.
–
Rebecca Cooke, Head of Commerce