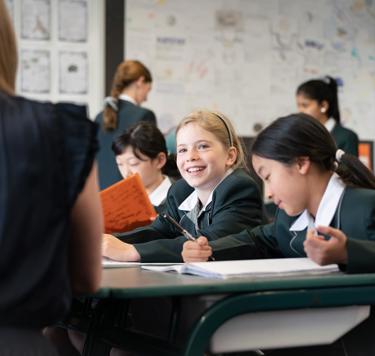 Positive pedagogy in action
MLC has long been recognised for its approach to student wellbeing, encouraging healthy mindsets, respectful relationships, lifelong resilience, and a strong sense of purpose. Student wellbeing is integrated across the College's broad curriculum, specialist programs, and co-curricular activities.
Every student has a designated teacher who is directly responsible for her wellbeing. Together with other key wellbeing staff, this teacher acts as a focal point across a larger support network.  In addition, we offer a wide range of student support services and specialist staff to assist each student with their personal challenges and goals.
Wellbeing programs are tailored to each age group to build on previous years' interpersonal skills and knowledge learning.
PROSPER Framework
The PROSPER framework underpins MLC's wellbeing approach.
PROSPER (Positivity, Relationships, Outcomes, Strengths, Purpose, Engagement, Resilience) integrates the science of wellbeing and the latest research into positive education with best-practice teaching and learning.
Every student is well supported at each stage of her schooling and development, as shown in the diagram below.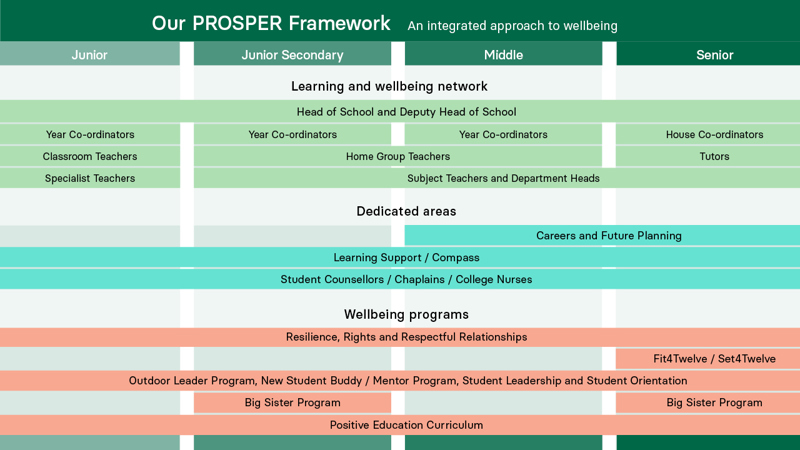 Counselling
Our Counselling Team provides short-term counselling services that address students' social, emotional and wellbeing needs.
Counselling is provided by a qualified team of mental health professionals with extensive experience in child and family services and child and adolescent mental health.
The MLC Counselling Team aims to:
Provide an early and active response to signs of personal difficulty
Assist students to develop insight and social and emotional literacy skills
Enhance support networks by strengthening relationships with family, peers and teachers
Address concerns in a confidential and respectful way, so that students can take maximum advantage of the learning opportunities at MLC
Identify areas of need to be addressed in wellbeing programs
The Counselling Service is available to all Prep to Year 12 students and their families and provides:
Assessment of the social and psychological wellbeing of individual students
Personal and confidential counselling
Referral to and liaison with private practitioners and community agencies
Consultation and support to families and caregivers
Consultation and collaboration with MLC staff
Health and physical wellbeing
The Health Centre is staffed from 8 am until 4.15 pm by a team of registered nurses and is a private service for students, staff and visitors to attend when injured or feeling unwell.
The Health Centre has beds that can accommodate students who need to recover for a short time before returning to class or going home. The nurses aim to provide a safe environment and offer accurate health information to students, both individually and through a range of targeted health and wellbeing sessions.
Personal care and spirituality
While MLC was Australia's first all girls' school to be founded by the Wesleyan Methodists in 1882, students of all faiths and cultural backgrounds have always been welcomed, resulting in a vibrant College community.
Our Christian heritage set the foundation of inclusion for the wide range of religious and cultural backgrounds represented in among students, staff and the wider community. The College's Chaplains work to build bridges and foster understanding between all belief systems and see the diversity that each student brings as a gift to our community. MLC Chaplains welcome student leadership in devotions and chapel services. They also support other aspects of College life, including working with students to organise events such as Social Justice Week, Reconciliation Week, Gratitude Week and Harmony Day. The College Chaplain also leads Friday morning 'Prayers and Pastries' for students, staff and interested parents.
To ensure that the spiritual wellbeing of every student is supported, the religious education curriculum taught in the classroom is open and inclusive. Students approach spirituality, religion, ethics, and philosophical studies in an explorative and questioning manner.