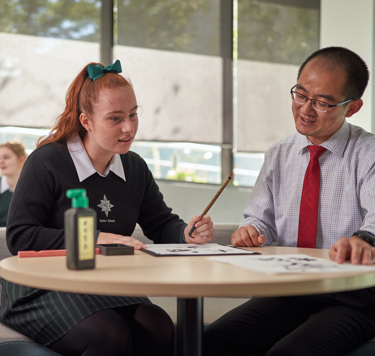 VCE and IB Learning Pathways
Breadth and choice in Year 11 and 12
We enjoy the largest VCE, VCE VET, and IB subject choice of any girls' school in Victoria. MLC is an exciting and rewarding place for our students to learn and prepare for the future.
In Years 11 and 12, students reach the fulfilment of their Secondary Schooling. At MLC, every passion and interest catered for across our extensive subject offerings and pathways.

Senior School students may graduate with an academically focused Victorian Certificate of Education (VCE), an industry-specific skill set through Vocational Education and Training (VCE VET), or an interdisciplinary International Baccalaureate Diploma (IB) that develops their sense of global citizenship.

Throughout these two important, challenging and memorable years, our students receive extensive career counselling and wellbeing support, ensuring they feel confident in their abilities, their decisions, and in the opportunities that lie ahead.
VCE Subjects
Our diverse VCE program is tailored to meet the needs and interests of each student, with a wide range of subject choices available. Students may undertake just VCE subjects, study VCE subjects in combination with VCE VET subjects, include a single IB subject in their Year 11 VCE program, or study VCE with a language through the Victorian School of Languages Distance Education. VCE is recognised by Australian tertiary institutions and major universities.
Art Creative Practice
Art Making and Exhibiting: Fine Arts
Art Making and Exhibiting: Photography
Media
Product Design Technology: Fashion
Visual Communication Design
Accounting
Business Management
Economics
Legal Studies
VET Business
Digital Technology
Applied Computing
English
English as an Additional Language
English Language
Literature
Bridging EAL
Food Studies
Health and Human Development
VET Hospitality
Geography
Global Politics
History
Philosophy
Chinese First Language
Chinese Second Language
Chinese Second Language Advanced
French
Japanese Second Language
Spanish
VET Certificate III Applied Language (Chinese)
General Mathematics
Mathematical Methods
Specialist Mathematics
Drama
Music Performance
VET Music
Physical Education
VET Sport and Recreation
Biology
Chemistry
Physics
Psychology
VCE VET Pathways
Students with an industry-specific interest are encouraged to study a combined VCE VET by undertaking a combination of VCE subjects and a VCE VET pathway. Students who complete a VCE VET subject graduate with both a VCE study score and a VET qualification that has national recognition. VCE VET studies have the same status as VCE subjects and are fully integrated into the timetable.
Students can build a unique learning portfolio by adding VCE VET subjects to their VCE program, developing skills at an industry-standard level and enhancing their opportunities for part-time and full-time employment.
MLC is an RTO (Registered Training Organisation) and all VCE VET subjects are available and studied at the Kew Campus. Furthermore, MLC has an onsite training restaurant and cafe, extensive sporting facilities, including a diving pool, and a state-of-the-art Music Department, ensuring that VCE Vet students benefit from hands-on industry experience here on our Kew campus.
Certificate III in Business
Certificate III in Sport and Recreation
Certificate II in Hospitality
Certificate II in Kitchen Operations
Certificate III in Music Industry
IB Subjects
The IB program prepares students to be active participants in their global community and has a reputation for focusing on holistic education, critical thinking and global perspectives. A key point of difference is curriculum structure. VCE students choose from a variety of subjects whereas IB students' study from 6 core areas. It is particularly suited to students wanting to pursue tertiary studies and qualifications and is recognised by Australian tertiary institutions and major universities .
The IB is unique, with a challenging curriculum that fosters high academic standards and international understanding. The program covers six academic areas, including a first and second language, humanities, sciences and math.

MLC teachers are experts in the IB program. MLC has been offering IB since 1999, with students achieving perfect scores in every cohort.
English A: Language and Literature
English A: Literature
Chinese A: Language and Literature
Chinese B
English B
French B
Japanese B
Spanish ab initio
Digital society
Economics
Environmental systems and societies
Global Politics
History
Psychology
Biology
Chemistry
Environmental systems and societies
Physics
Sports, exercise and health science
Application and Interpretation
Analysis and Approaches
Visual Arts
An additional Group 2 subject
An additional Group 3 subject
An additional Group 4 subject