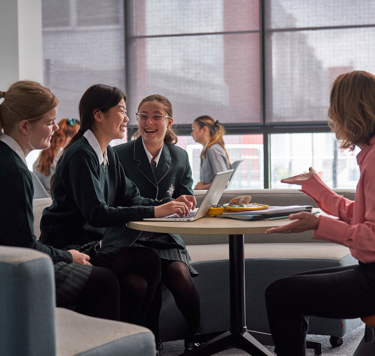 A curriculum that is innovative and bold
Our school curriculum offers an integrated approach to learning and wellbeing for girls from Year Prep to Year 12. Our curriculum sets us apart from other open-entry and independent schools in Victoria.  
At MLC, the way students learn breathes life into our Vision, Mission and Values. Our curriculum guides what our students learn, and how they structure their learning on a day-to-day basis. It informs a common set of knowledge, skills, and shared experiences that create a strong sense of belonging and a lifelong love of learning.
Why School Curriculums Matter
A broad and balanced curriculum that integrates student wellbeing is the best way to 'future proof' our students – to prepare them for an ever-changing world. Our curriculum is rigorous, relevant, and designed to develop powerful ways of thinking through sustained engagement with key disciplines.

While the majority of the curriculum organises learning into clear disciplinary areas, our ever-changing world also demands that we provide opportunities for students to engage in real-world learning experiences that draw from a number of different disciplines.
Pathways through Curriculum
Learning at MLC is an adventure, and each curriculum pathway is challenging yet motivating and, most importantly, provides clear learning progression that builds upon what was learned before.
The strength and diversity of our learning pathways, subject choice, individualised wellbeing approach, and Education Outdoor programs ensure our students access and enjoy greater and greater freedom and enrichment as they move through their years of learning.

By the time students reach Senior School, they are ready to make their own learning decisions and let their passions and interests guide their final years of schooling. This leads to better results at the end of Year 12 and prepares them well for life.
There are four broad stages of schooling within MLC's P-12 curriculum, these being: