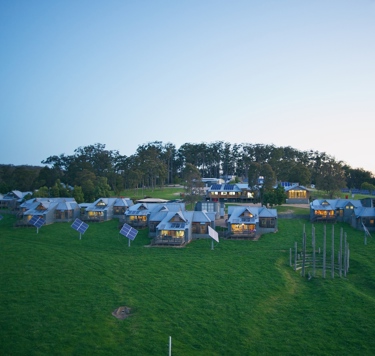 Real-world experiential learning
We own and manage two dedicated remote school campuses – MLC Banksia (Years 5-8) and MLC Marshmead (Year 9), located in East Gippsland.
At both Banksia and Marshmead, students access a range of tailored outdoor learning experiences virtually unrivalled in the state's secondary education sector.
Our Education Outdoors program is underpinned by a commitment to practical, effective and holistic sustainability education centred around three key concepts: personal sustainability, sustainable communities and environmental sustainability.
Through hands-on, experiential learning, MLC students develop a profound appreciation of our precious natural environment and develop the skills, knowledge and understanding required to live sustainably, not only as school students but throughout the rest of their lives.
MLC Banksia
MLC Banksia is the College's Education Outdoors site for students in Years 5 to 8 and is located on the Banksia Peninsula, Gippsland Lakes, near Paynesville.
MLC Banksia is a unique, curriculum-based program. In conjunction with experiential opportunities that traditionally occur in an outdoor education program, it is the structured learning that takes place which makes Banksia unique. MLC Banksia experiences are theme based and have strong links to the Kew curriculum.
As an education-centred program, MLC Banksia utilise qualified and experienced teachers in Outdoor Education and is supported by additional education support staff and specialists.
Each MLC Banksia experience is carefully and strategically planned to enable effective personal skill development, where students undertake a range of new, age-appropriate challenges each time they return.
One class or homegroup attends at a time, meaning students get to know their classmates and form solid, long-lasting friendships through their shared Banksia experiences.
MLC Marshmead
A group of Year 9 students live together for eight weeks, learning about themselves, their community and the environment.
MLC Marshmead our remote residential campus, located on 114 hectares in East Gippsland's beautiful Croajingolong National Park. For 8 weeks, students live together, learning about themselves, their community and the environment.
Established in 1991, MLC Marshmead was ahead of its time as one of the nation's first environmentally focused, hands-on education setting. Students experience a low-energy lifestyle and become increasingly carbon conscious.
Campus
A sustainable footprint
All campus buildings incorporate energy-efficient design elements, a remote area power supply system maximises the use of renewable energies, and the campus features its own water and waste management systems. While staying at MLC Marshmead, students encounter relevant, practical learning and gain life skills such as independence and self-reliance, as well as an approach to sustainable living that is directly transferable to their urban lives.
MLC Marshmead is a curriculum program that many students follow. However, some Year 9 students each year choose to remain in Melbourne and follow an alternative 'Melbourne Term' curriculum program.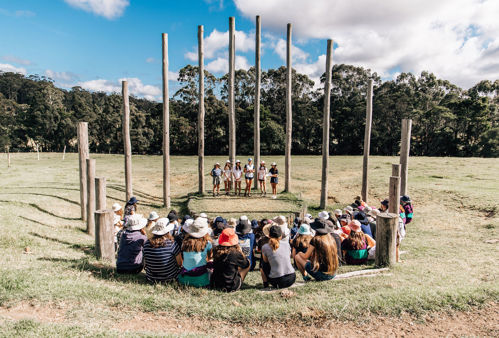 Community Living
The Marshmead Village
MLC Marshmead is a small village where students learn and benefit from involvement in a supportive, collaborative and connected community. Students manage their own cooking, cleaning, heating and cooling within nine self-contained student houses, each featuring comfortable bedrooms, living area, kitchen, bathroom and solar hot water unit.
These experiences encourage students to build on their relationships with others while improving their communication, decision-making and interpersonal skills. Wellbeing is paramount at MLC Marshmead. All students support one another through the experience of living away from home, with dedicated staff and a Home Group teacher helping them through this process.
Curriculum
Integrated units
At MLC Marshmead, students undertake a range of integrated units that tie in with the Kew-based Middle School curriculum and key learning areas. Students attend formal classes, and the curriculum studied makes use of the village infrastructure, local environment and communities.
An on-site, working farm doubles as a learning precinct. During their stay, students manage key elements of farming, including the vegetable garden, composting and the chickens.
Students participate in expeditions, outdoor activities and recreation, and a physical education program promoting regular exercise, health and wellbeing. Outdoor skills and activities extend those introduced at MLC Banksia in Years 5 to 8, including navigation, sea kayaking, canoeing and bushwalking. Students extend their camping skills and participate in two rewarding three-day expeditions.