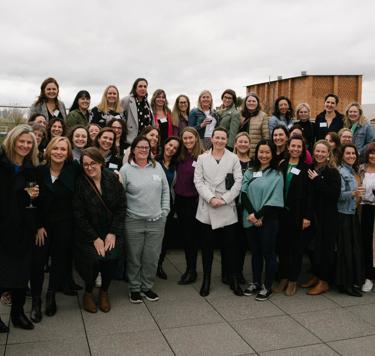 Our vibrant Old Collegian community
Old Collegians are warmly invited to join our global network and stay connected with MLC through our lively program of reunions, regular events, and professional networking and career development opportunities.
Everyone is welcome, regardless of when they graduated; our network is made up of supportive women aged between 16 to 100, and they can be found all over the globe and in every profession and sector.
Whether you are looking for friendship, a mentor, or a way to give back to the College, you will find a warm welcome among MLC alumnae.
Upcoming Events and Reunions
Date
Event
Time
Friday, 3 March
Class of 2013, 10 Year reunion
6.30 pm - 8.30 pm
Saturday, 18 March
Deaf Education - All Years
11 am - 3 pm
Saturday, 6 May
Class of 1983, 40 Year reunion
11 am - 3 pm
Thursday, 11 May
Class of 2018, 5 Year reunion
6.30 pm – 8.30 pm
Saturday, 20 May
Class of 1963, 60 Year reunion
11.00 am – 3.00 pm
Friday, 26 May
Class of 2003, 20 Year reunion
6.30 pm – 8.30 pm
Saturday, 3 June
Class of 1993, 30 Year reunion
11.00 am – 3.00 pm
Thursday, 15 June
Class of 1998, 25 Year reunion
6.30 pm – 8.30 pm
Friday, 21 July
Class of 1988, 35 Year reunion
6.30 pm – 8.30 pm
Saturday, 5 August
Class of 1978, 45 Year reunion
11.00 am – 3.00 pm
Saturday, 12 August
Class of 1973, 50 Year reunion
11.00 am – 3.00 pm
Saturday, 26 August
Class of 1968, 55 Year reunion
11.00 am – 3.00 pm
Wednesday, 4 October
Class of 2022, 1 Year reunion
(Offsite)
6.30 pm – 8.30 pm
Saturday, 7 October
Silver Circle Reunion
11.00 am – 3.00 pm
Thursday, 19 October
Class of 2008, 15 Year reunion
 
Date
Event
Time
Thursday, 9 March
OCC International Womens' Day Welcome Event
6.30 pm – 8.30 pm
Thursday, 30 March
OCC Annual General Meeting
6.00 pm – 9.00 pm
Saturday, 15 July
OCC Annual Chapel Service and Lunch
11.00 am – 3.00 pm
Thursday, 10 August
OCC Mentoring Program Launch
6.30 pm – 8.30 pm
Tuesday, 29 August
OCC Past President's Lunch
12.00 pm – 3.00 pm
Monday, 9 October
OCC Annual Golf Day
Kew Golf Club
8.00 am – 3:30 pm
Thursday, 2 November
OCC Celebration Event
6.30 pm – 8.30 pm
Thursday, 2 November
Mentoring Program Conclusion and Celebration
6.00 pm - 7.00 pm
Our Branch Events provide MLC alumnae with the opportunity to connect with one another, in person, throughout the world. The events are organised in conjunction with a local Convenor who is based in a given area.
Past and future event locations include Geelong, Phillip Island, Sydney, Tasmania, Canberra, Singapore, Hong Kong, London and New York. If you are interested in becoming a Convenor for the next event in your area, please email: alumnae@mlc.vic.edu.au
Join our network
The MLC Old Collegians' Club (OCC) was established in 1904 to foster ongoing relationships between all Old Collegians and between Old Collegians and the College.


President's message
The Old Collegian community is an incredible network of over 32,000 alumni across Australia and the world. Our MLC graduates are vibrant, diverse and engaged. As your Council we are responsible for providing fora in which Old Collegians can learn and connect – where everyone is welcome and supported. I am incredibly proud to take on the role of Old Collegian Club President and build on the incredible work of those before me.
We are living in an extraordinary time. Social, environmental, and political change will remain a constant. As Old Collegians we have the opportunity and responsibility to use our education and connection to advance the wellbeing of people and the planet for current and future generations. Many of our Old Collegians are doing amazing work and continue to have a positive impact on society. The Old Collegians Club is committed to supporting their projects and passions. Each year we celebrate these Women at our OCC Celebration Event, Young Alumnae Event and throughout the year on our social media; Instagram and Facebook.
We know that when women succeed, their families and communities benefit and often thrive. Over the past few years times we have seen an evolution in the concept of gender thanks to the advocacy of the non-binary and queer communities, women and allies. Their work has helped us to confront restrictive gender assumptions and ideas of what we can and can't do. Each year we celebrate this important work at our International Women's Day Event, while our aims to provide meaningful support to Old Collegians planning to undertake a not-for-profit venture that promotes the empowerment of women.
Our community is important and is strengthened by our connection to each other. The Council warmly invites you to continue your connection no matter where in the world you reside.
Warm regards,
Alex Waddell (2010)
President
Publications
As an Old Collegian, you will receive a copy of our biannual community magazine, The Star.
To submit a Community Notice (engagement, marriage, birth or In Memory), please click here.
Our Old Collegians also receive a quarterly email from the OCC President, sharing interesting news and updates.
Please remember to keep your contact details updated to ensure you do not miss out on the latest news.
Do you need to update your details?
If you have moved or changed your email address, please let us know so that we can keep you up to date.
Let us know by completing our update form.
The OCC is led by generous volunteers and the support of MLC. The Council comprises Old Collegians from across the generations who work together to implement the OCC events and programs to connect Old Collegians with each other, the College and their communities.
2022 Executive Council Members:
Alex Waddell (2010) – President
Alexandra O'Keefe (1999) – Vice President
Anne Turner (1988) – Immediate Past President
Sarah Ben-David (2014) – Treasurer
Annalise King (2019) – Secretary
Applications close Sunday, 25 February 2024.
The MLC Old Collegians' Club is currently looking for new members of the OCC Council, which is an active volunteer group. Members contribute a diverse range of skills and experiences and represent a broad cross-section of alumna years.
Our Committee members oversee events and programs and work closely with, and are supported by, the MLC Alumnae Engagement Manager.
Council meetings are held bi-monthly online, and we welcome new Committee members from Melbourne and beyond.
Application is a two-step process:
Submit an Expression of Interest. Our President, will make contact and discuss what it means to be on the OCC, giving you the opportunity to find out more before submitting an application.



Application/Nomination. This is the formal stage of the process, and the OCC Executive will assess each application against the needs of the OCC. Note applications must be received by 25 February 2024.
We encourage all Old Collegians to find out more by submitting an Expression of Interest.
OCC Ordinary Council Member Expressions of Interest Form
Our Val Kerr Fellowship Grant Program supports Old Collegians who are planning to undertake a not-for-profit venture that aligns with OCC values and promotes the empowerment of women, female leadership, education or social entrepreneurship. 
 
The program includes financial support to assist the recipients in their endeavours. Examples of suitable ventures that may benefit from the Fellowship Grant include undertaking a research project, developing a business case for a social enterprise, providing outreach activities or adapting an existing program offering/approach.
Financial support is provided up to $10,000 for a not-for-profit venture.
About Val Kerr:
Val Kerr (1937) was a much-loved and respected member of the MLC community. Val had an impressive 84-year connection with MLC, attending as a student from 1932 to 1937. She later returned to the College as a teacher, Chief of Staff, Deputy Vice Principal and Acting Vice Principal before retiring in 1983.  Val was a devoted member of the Old Collegians' Club and served as President in 1960.  Val was named patron of the Club in 2001 where she continued her dedication to the College until her passing in 2016.
 
Naming the grant program after Val is in recognition of her contribution to the College community and in particular to the Old Collegians' Club over many years.
Key Dates
February - June: Applications Open
July: Selection Process
August: Outcomes Notified
Please ensure you read the information below:
2019:
Steph Cousins (2000): Empowering refugee women to find safer futures through international employment.
2020:
Nicole Bishop (Butcher 1996): Evaluation of the effectiveness of a not-for-profit training program aimed at improving the lives of widows in Northern India.
N'Deane Helajzen (1994): Marking 25 Years since the Srebrenica Genocide: To see, to know, to remember – An online exhibition to combat Historical Revision and Genocide Denial.
Alana Schetzer (2000): 'Get Lippy', a social enterprise selling limited edition lipsticks to raise awareness and funds for organisations that work to prevent violence against women.
2021:
Sarah Cavenagh (Brook 2007): Quilts of Love, with quilters donating quilts to show care and support for those caught in a natural disaster.
Jocelyn McCallum (Houghton 1965): The Supporting Women to Create a Positive Future, assisting 16 vulnerable women to be job ready and gain employment.
Alexandra Murphy (2005): SMART-BREAST, helping in the development of a smartphone-based app for cardiovascular risk reduction in breast cancer patients.
At MLC, we are fortunate to have many accomplished alumnae across a large variety of fields, who are eager to impart their knowledge, experience, and words of wisdom to our younger Old Collegians. 
Mentees may be studying, recently graduated from university, have started your own business, or working in your chosen field. Mentors may be further along in their career, having gained some career and life confidence.

Mentorship is an opportunity for both the mentees and mentors to learn from one another. Having a mentor-mentee relationship can help you:  
Grow as a professional
Understand different opportunities available to you
Coach you during difficult times or times of change
Provide additional networking opportunities
We are extremely pleased to announce that our OCC Mentoring program will be available for a small selection of interested OCs. Mentees will be partnered with a leading professional in a relevant field. Our alumnae mentors come from a range of industry backgrounds, including law, medicine and health professions, design and more. 

This is a chance to learn from a mentor who wants to help you succeed in all areas of life. The program will run in August to November this year with two compulsory in-person events at the College. The other four catch-ups will be arranged between the mentors and their mentees.
In the interests of keeping the program personal and beneficial to all, only a limited mentee spots are available. Don't miss out! Let us know if you are interested in being mentored or mentoring by filling out this survey.

Applications close on Sunday, July 16. The outcome of the applications will be released on Sunday, July 30. 
Our OCC Patron
OCC Patrons hold a special position within the MLC community, acting as ambassadors for the College and its alumnae, wherever in the world they are located.
We acknowledge and pay tribute to former OCC Patrons who have passed away: Joan Forster (1934), Val Kerr (1937) and Fran Keller (Woolhouse 1948).
In 2018, MLC's Old Collegians Club was delighted to appoint Anne Scott OAM (Simpson 1957) as its Patron.
Anne Scott OAM (Simpson 1957) attended MLC from the age of six until she completed her Leaving Certificate. Her daughter and granddaughter are also past students. Anne served on the OCC Council for almost 20 years, including as its President from 2009 – 2010.
Anne says her long history of community contribution – beyond MLC she has made an enormous impact on the Girl Guides Association/Guides Australia, International Guiding, The Order of Australia Association and Rotary International – reflects the life lessons taught at MLC and Dr Wood's famous reminder that "from those to whom much is given, much will be required."