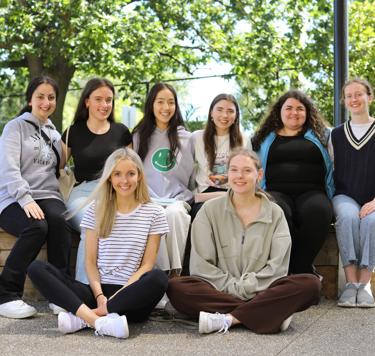 Congratulations VCE Class of 2021!
December 16th, 2021
We congratulate all our Year 12s for determination, perseverance
Congratulations to the VCE Class of 2021 for finishing their studies and receiving their ATARs today. The outstanding results demonstrate tremendous perseverance and spirit to overcome the challenges of the past two years.

The entire MLC Community is immensely proud of our Year 12s and their ability to make the most of every opportunity. They have modelled maturity and leadership to our younger students, who look up to them for reassurance and guidance. We have been especially impressed by their grit and strength of character in the face of so much global uncertainty.
Of our VCE and VCE VET Class of 2021:
3 students achieved an ATAR of 99.95, of only 11 female students across Victoria to achieve this score
19 students, 9% of the cohort, achieved 99 or above, placing them in the top 1% of the state.
31% were in the top 5% of the state with an ATAR of 95 or above
45% were in the top 10% of the state with an ATAR of 90 or above
An outstanding 27 perfect study scores were achieved in 13 subjects – including Chemistry, Food Studies, Health and Human Development, History: Revolutions, Hospitality: Kitchen Operations, Hospitality, Legal Studies, Mathematical Methods, Media, Product Design and Technology: Fashion, Psychology, Visual Communication Design and an astonishing six in English.
Importantly, our Year 12s have also excelled across diverse areas of achievement. They have grown in leadership and commitment across 124 leadership positions, participated in 36 student clubs, developed their musical talents in 15 College music ensembles, showcased their artistic expression in the Senior School Performing Arts Festival, attained more than 100 nationally recognised VCE VET qualification certificates, and pursued sporting excellence in 30 sports and numerous competitions.

Moreover, in all their endeavours, our Year 12s have demonstrated a remarkable resolve to support one another, nurture friendships, and show compassion to the wider community.  

MLC extends a special congratulations to this year's duces, Alex Atcheson, Ellie Bennett and Suzy Dingle, who achieved ATARs of 99.95, and our duces secundae, Nicola Anderson, Rachael Beckwith and Gabby Walker, who received ATARs of 99.90.
Through the eyes of our students
Students and staff have worked and learned together, strengthening bonds through shared experience. As the first cohort in history to undertake their entire VCE studies amidst lockdowns, this impressive student and staff group has pioneered an extraordinary period of digital transformation in education and continued our college's proud tradition of outstanding results.

One of our College Duces, Suzy Dingle, took online studying for the VCE in her stride and also found time to support other students who struggled through lockdowns as MLC's Head of House Prefect.

"I didn't really mind working from home, so I wasn't too put down by that news of more lockdowns when it came. But I knew there were other students in the cohort who were really disappointed by it. For me, the priority was looking after those students as well, because I knew I could hold my own during lockdown," she said.

Now, with her high school days behind her, Suzy is looking forward to tertiary study. "At this stage I'm hoping to get a position studying medicine at Monash. Otherwise I'm really interested in anything around science, biomedicine and engineering."