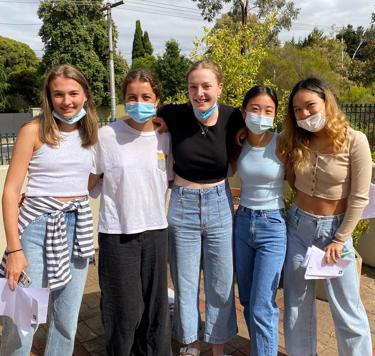 Congratulations to the IB Class of 2021!
January 3rd, 2022
Congratulations to our IB Class of 2021 who received their results today.
These outstanding results complement our exceptional VCE results released in December.
2 students have achieved perfect IB scores of 45, which equates to the highest possible ATAR of 99.95. Congratulations to Irene Ma and Cassandra Stavrou on their fantastic achievement. 
A further 9 students achieved an IB score of 44, equivalent to an ATAR of 99.75
49% of MLC's IB students achieved an ATAR equivalent of 99 or above
88% of students achieved an ATAR of 90 or above
The median ATAR for the IB cohort is an outstanding 98.55

Congratulations to our IB students on these exceptional results. The IB Diploma aims to inspire and shape globally-minded, inquiring, knowledgeable, confident, multilingual, and caring young people, which the IB Class of 2021 certainly has demonstrated.

The attributes reinforced through the IB include the importance of thinking critically and being successful 'risk takers' in the way they approach unfamiliar situations - skills that will no doubt be sought after in the years to come.

To achieve such impressive results, in the face of so much adversity is a testament to the character of these young women. Our IB Students should be proud of how far they have come and inspired by how far they will go.

As one of our College Duces, Irene Ma, made mention upon receiving her results: "I feel like the whole IB community has formed a really close bond and formed friendships for life, we are so supportive of each other through the two years."
 
Our combined VCE, VCE VET and IB results continue the College's long tradition of academic excellence:
5 students achieved an ATAR of 99.95
16% of the cohort achieved 99 or above, placing them in the top 1% of the state.
40% were in the top 5% of the state with an ATAR of 95 or above
53% were in the top 10% of the state with an ATAR of 90 or above
The median ATAR is an outstanding 91.30
 
We look forward to celebrating our Class of 2021's achievements further with tertiary offers later this month and following their future journeys.